Smooth transition for Miss Central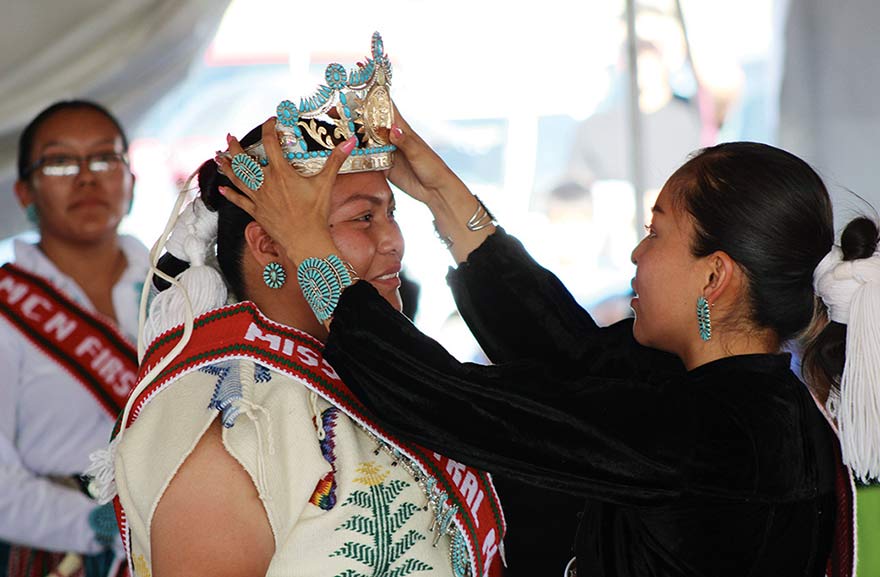 CHINLE
Winning the Miss Central Navajo title was "kind of like nothing new" for Wyndelyn Frances Clay. She just traded one crown for another.
Clay was the outgoing Miss Central Teen, so "I pretty much knew what to expect" at the pageant, said the 18-year-old, whose clans are Black-Streaked Wood, Coyote Pass, Yucca Fruit Hung out in a Line and Red Running into Water.
Clay said, "It's going to be another good year" representing Central Agency, and she hopes to do some joint events with her sister, Daelynn Begay, the new Miss Central Pre-Teen. The two are daughters of Darryl Begay and Wendelena Clay-Begay, and hail from an area between Rock Point and Round Rock.
Clay has chosen "Revitalizing Navajo Language and Culture" as her platform.
For her contemporary skill, Clay showed the audience how to tape drywall. Her contemporary talent was jewelry making. For her traditional skill she made steamed corn, and for her traditional talent she sang two songs.
Clay also correctly answered two questions in Navajo: "What kind of food do you like that comes from the land?" (kneel-down bread) and "Name the sacred mountains clockwise."
She is leaving for college at an undisclosed location next week, majoring in public health, but believes she'll be able to come home often enough to fulfill her Miss Central duties. In the meantime, she has this advice for her Diné people: "No drinking and driving, no texting and driving, talk to your children in Navajo, please use your seat belts, and take care of yourselves!"
Central Fair royalty 2019-20
• Miss Central — Wyndelyn Frances Clay
• Miss Central Teen — Natiana King
• Miss Central Pre-Teen — Daelynn Begay
• Lil' Miss Central — D'Lila Holtsoi
• Lil' Central Brave — Cody Johnson
• Baby 0-12 months — Ailani Van Winkle, Finnegan Nelson-Whitney
• Baby 13-25 months — Bethany Jade Ben, Cree Yazzie
• Baby 25-60 months — Aubree Clah, Ty Johnson
---