Youth workshop proves 'Failure Is Not An Option'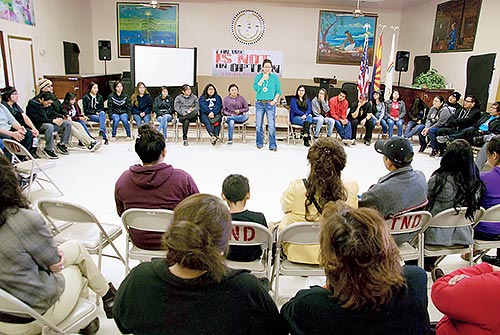 TUBA CITY
When people walked into the chapter administration building on New Year's Eve, many of them immediately noticed the banner on the northeast wall: "Failure Is Not An Option: Youth Workshop."
Perhaps they were skeptical at first, but by the end of the day the people who attended the workshop saw how failure is not fatal.
Weighing more than 260 pounds in 2008, Waylon Pahona (Hopi/Tewa/Maricopa) collapsed one day after squatting big weights at a gym. His girlfriend at that time took him to the hospital, where he was diagnosed with spondylosis and facet joint disorder, as well as post-traumatic stress disorder.
Pahona's physician on that occasion told him that he shouldn't lift any weights, telling him, "As heavy as you are and the weights that you're lifting, you're hurting yourself."
When he got home, his girlfriend told him she no longer wanted to be in a relationship him. Pahona's life after that didn't get much better as he went under the impression that there is no God and "no nothing."
"I started taking pills and started thinking about taking my own life," Pahona continued.
Hearing his youngest child nearby, Pahona asked himself what he was doing and why he was trying to take his life.
---