Change Labs, a place to 'grow', Entrepreneurship hub space opens in Tónaneesdizí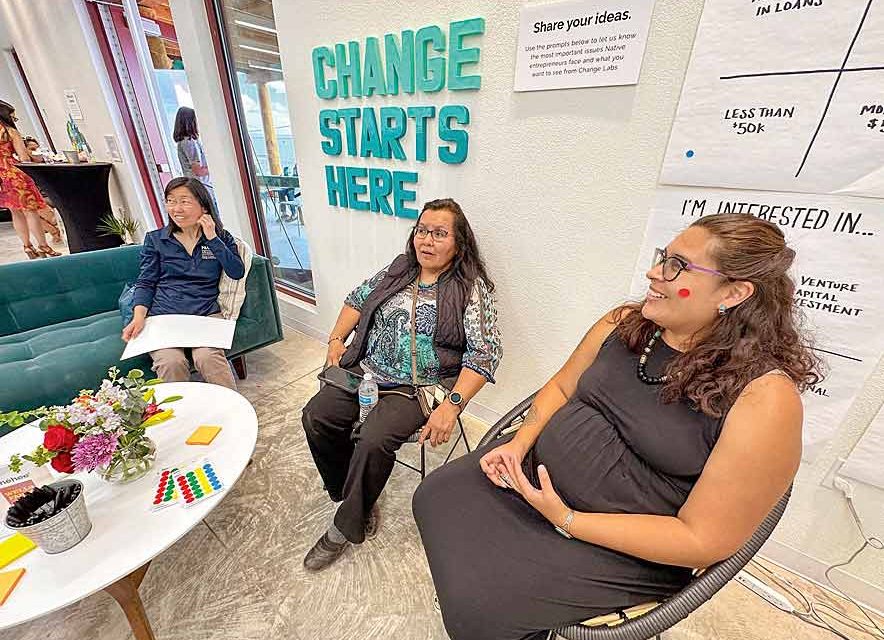 TSÉBIGHÁHOODZÁNÍ
Living with bipolar disorder and no income, she knew she needed to heal – and a job.
Crystal Lynn Dugi combined the two matters and started painting with art supplies she bought with the bit of money she had.
"Mostly to deal with anxiety and a lot of the symptoms that came with bipolar," Dugi said. "After that, I started sharing the work with my family and my friends.
"And they started offering to buy them," she said. "I figured I could use that as income. Then it just blossomed into a business."
When she saw Change Labs' Facebook post about starting a business or a nonprofit, Dugi applied to the Native-led/Native-controlled nonprofit organization's incubator, which provides members with training, skills, and tools for a start-up on Native land. She was chosen to join the Change Labs Incubator.
"It's (members) someone who has an idea," explained Kristine Laughter, the finance director for Kinship Lending and a Change Labs Incubator coach.
"We always say, 'What problem are you trying to solve?'" she said. "It can also go to––entrepreneurs (members) are trying to solve within their own communities."
Dugi is a Change Labs alumna who graduated in 2021. The problem she was trying to solve then was therapy specifically designed for the type of healing she wanted. She is now a business owner and operates Crystal L Daghaa'ii.
She said Daghaa'ii or Dá'ghaa'ii, meaning "beard," comes from her family lineage and draws her strength as a Diné woman.
Dugi is from Tonalea-Red Lake/Tónaneesdizí/Shadow Mountain, Arizona. She is Naadą́'áłgaii Naaneesht'ézhí Tábąąhá and born Tł'ízíłání. Her maternal grandfather is Lók'aa Dine'é, and her paternal grandfather is Tsédeeshgizhnii.
Read the full story in the June 29 edition of the Navajo Times.
---