Chinle water delays Denny's grand opening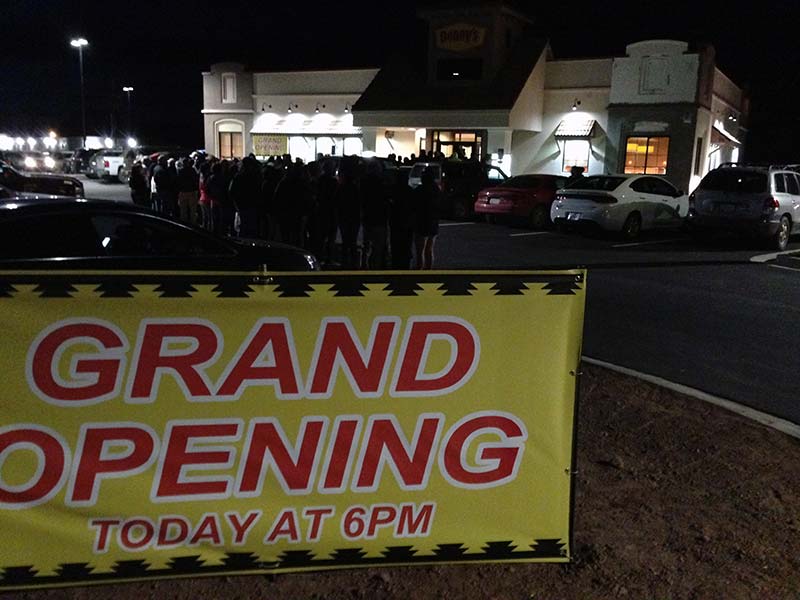 CHINLE
Somebody should have warned them about the water.
Outside the brand new Denny's restaurant Sunday, the line was snaking through the parking lot and was almost out to the street as people eagerly waited to be among the first served at Chinle's first sit-down chain restaurant.
Inside, owner Romero Brown was trying to get ahold of NTUA and sweating bullets.
"We're supposed to open at 6," he said at about 5:30. "NTUA is supposed to send a guy down to tell us the water is OK. But I haven't seen him yet."
A management team from corporate who had come all the way from Denny's headquarters in South Carolina had taken one look at Chinle's infamous reddish-brown tap water and shut the opening down until they could be convinced it was potable.
"All we need is for someone to take a picture of this water and post it on Facebook," a manager said.
Apparently nobody told the team that that is just the color the water is in Chinle, stained by iron compounds from the red sandstone through which it filters into a deep well. Most Chinleites don't even wash their whites in it; they take them to laundromats in Gallup.
"I tried to tell them the people here are used to it," said Sarah Bitsui of Chinle, Brown's niece. "This is their water. We've been drinking it all this time and we're still here."
By 6 p.m., the line had lengthened to more than 130 people, the temperature had dropped to 30 degrees, the doors were still closed and the NTUA was nowhere in sight. Brown's son Darrell, lead manager for the restaurant, popped out to assure the crowd that in spite of "technical difficulties," the restaurant would be open momentarily.
"We're freezing!" shouted one woman. But Darrell Brown calmed the crowd, assuring them, "We're here to serve you. We love this area. I love my Navajo people!"
"This is crazy," muttered T.J. of Chinle, who refused to give his last name. "It's just like Best Buy in Farmington Thanksgiving night."
Still, no one was going anywhere.
"We like cold," declared Wilhelmina Davis, the first person in line. "I used to go all the way to Window Rock to eat at Denny's. No more of that again!"
For Anna Haskie of Nazlini, Ariz., eating at Denny's was almost a spiritual quest.
"I can't wait to eat in here," she said. "My son was Denny. He passed on. So this is my way of honoring him."
"We just want to see inside, look and eat," added Helen Mego.
"I want burgers!" piped up little Belle DeVeaux, in line next to her.
Inside, the corporate management team played some icebreaker games with the staff to calm their nerves while they waited.
Brown had hired 80 people to work the new restaurant, the management crew having taken an 11-week training course and the wait staff training at Brown's other Denny's in St. Michael's. The Department of Workforce Services had come through with a grant to train the employees, and presented Brown with a plaque for creating so many new jobs on the Navajo Nation.
"I'm happy to have the job," said Phillarena Begay of Round Rock, Ariz., a hostess. "I was a cashier at a convenience store, so this is a step up for me."
It was a step in the opposite direction for chef Cody Rockwell, a culinary school graduate who used to work at a ritzy sushi place in Phoenix. But he was equally grateful to Brown for the job.
"I moved here to be with my girlfriend," he said. "I guess I'm settling for diner food, but I'm happy to have a job in the kitchen. There aren't many jobs like this in Chinle."
Finally, just before 7 — a long, cold hour after the doors were supposed to open — the NTUA guy arrived and gave the water his blessing. The doors swung open and the Browns stretched a length of broad red ribbon across the entrance.
But there was another technical glitch: The giant scissors wouldn't cut the ribbon.
"There's metal in this ribbon or something," muttered Darrell.
A woman in the crowd saved the day, volunteering her pocket knife. After a few seconds sawing at the ribbon, it finally succumbed, amid a heartfelt cheer from the shivering masses. Judging from the smiles as the hostesses seated the hungry, long-suffering families, it was all worth it.
Meanwhile, up the street at the Junction Restaurant, a privately owned diner that's probably Denny's main competition in Chinle, one might have suspected a quiet night since the whole town seemed to be at Denny's.
But the Junction was its usual lively self.
"It looks like about the typical crowd for this time of night," said cashier/hostess Carlelisha Burbank. She added that the restaurant didn't lose any employees to Denny's that she knows of.
"There's room for more restaurants in Chinle," she shrugged.
Maybe even more motels. Brown announced at a VIP luncheon earlier Sunday that he planned to open a motel behind the restaurant, similar to his Navajoland Inn and Suites behind his Denny's franchise in St. Michael's.
Former council delegate Andrew Simpson applauded the move.
"He's been talking about it for 12 years," he confided. "Finally Chinle has a council delegate (Leonard Pete) who will push it through."
---