Restaurant revitalization of Amigo Café 'like art'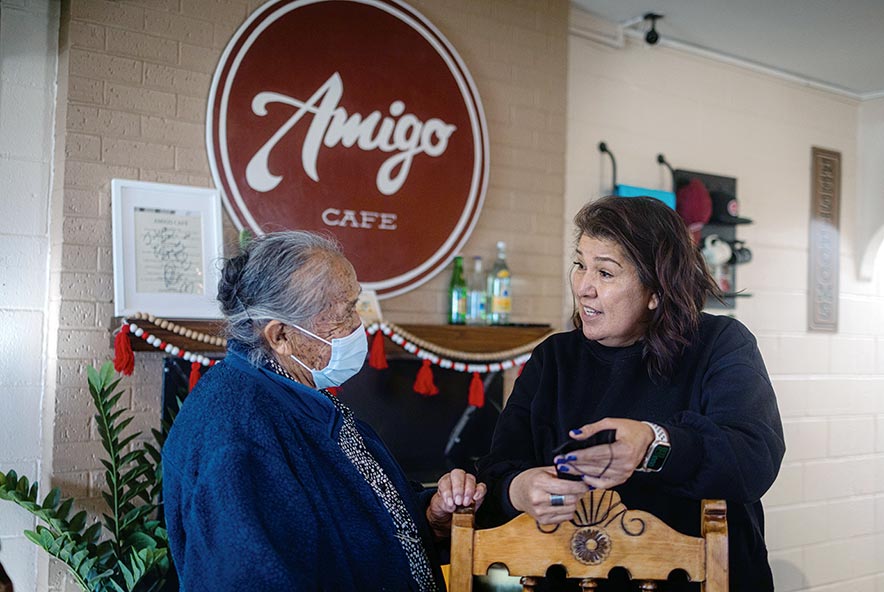 KAYENTA
Customers come in and out of a small restaurant in Kayenta.
Some were coming from a meal, some were picking up to-go orders, and some were waiting to be seated. The parking lot of this small restaurant can fit only four cars. However, this does not stop customers from parking in the dirt lot beside the paved one.
Eight months ago, in May 2022, Amigo Café underwent a three-day restaurant revitalization.
Amigo Café was able to receive assistance from Robert Irvine, a chef, entrepreneur, and the host of Food Network's Restaurant: Impossible.
Julene Price, the owner of Amigo Café, was contacted by the producers of Restaurant: Impossible for an opportunity for Irvine to come to help the restaurant for an episode to air Jan. 5, 2023.
The restaurant was heavily impacted by COVID-19. During the pandemic, the restaurant had to shut down, leaving employees without work. Julene explains that she continued to pay her employees through savings.
Because of the assistance Irvine and his crew provided, the restaurant was able to get back on its feet. Through the revitalization, the restaurant could comfortably adjust and make changes.
One change was recognizing the individual in line to become the next owner one day. For Julene this person was Heather Price – Julene's youngest daughter.
Co-owner of Amigo Café, Heather, has been working at the restaurant since she was a teenager and has contributed to decisions and ideas about the restaurant. When Irvine was interviewing Heather, she was asked what she wanted to introduce.
"I want to introduce our cooks into more wholesome, health-some food," Heather said. "We still have the Navajo foods, but we wanted to step it up. I think this was a good experience, a good way to reintroduce a lot of [new] foods all at once."
While working with Irvine, Heather comments how he primarily focused on building her confidence as a manager and preparing her to run the business eventually.
Julene wants the restaurant to become an inheritance for her children and seeing how hard Heather has worked for the restaurant was a reason for Julene to pass Amigo Café to her.
Billy Crawley II, the Amigo Café manager, shared his thoughts on Julene and Heather working together to take small steps toward transitioning ownership in the future.
"Of course, you want one of your kids to take over and continue the legacy," Crawley said. "I think that's a beautiful thing; I am all for it. Heather stepping up, I think it's great. I was hoping one of the family members was going to take over for them (Julene) because this is a fantastic place; this place is gold."
Julene and Heather bring opposite ideas to the restaurant, which helps balance business operations.
---