To'hajiilee robotics team places 3rd at state competition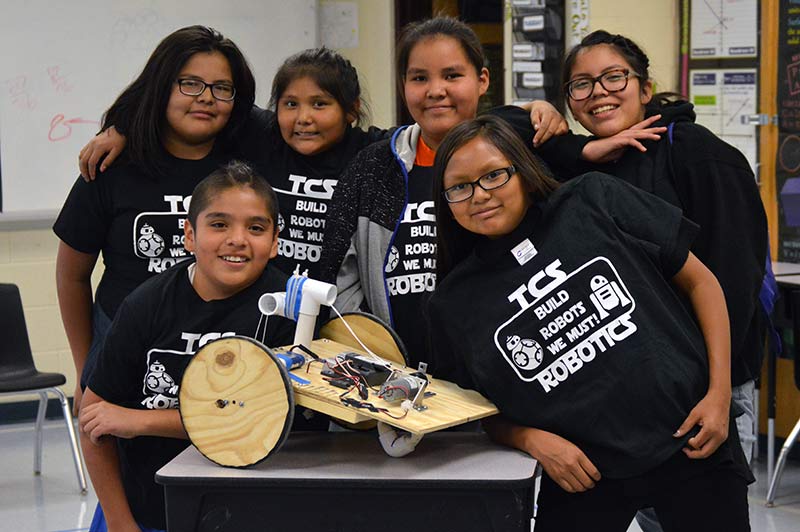 TO'HAJIILEE, N.M.
After topping a statewide robotics contest, mid-school students here are on their way to a regional competition sponsored by New Mexico State University.
According to a Las Cruces Sun news article, 27 schools from three states competed in the contest.
NMSU's Boosting Engineering, Science, and Technology contest is a middle and high school robotics competition. Its mission is to engage students in engineering, science, and technology while inspiring them to pursue careers in these fields.
To'hajiilee team members are: Samuel Gruber, 6th grade; Annalysa Toledo, 6th; Kailee Francisco, 6th; Shianna Harrison, 7th; Macy Benally, 6th; and Heather Mariano, 8th.
Competing against high school students, To'hajiilee students placed third in a contest to design and build a robot.
Next for To'hajiilee's robotics team is a trip to Frisco, Texas, for the regionals.
It was To'hajiilee's first time entering the contest, according to the team's coach, Henrietta Bubernak, in an email to the Times.
Teams entering the contest had three assignments – design and construct a robot to save a pretend person from a fire, extinguish the fire, and contain some hazardous chemical drums – all within three minutes.
Each team received a robotics kit to build the robot, which included a doll-like mannequin to represent the pretend person and a row of cans, the dangerous chemicals.
Deming High took first place. Oak Ridge High took second place.
"We were given six weeks to build, design and program a robot to accomplish these goals," Bubernak said.
In addition to coaching from Bubernak, To'hajiilee students received tips from the "4-Robotics" team at Rio Rancho High School, a leading robotics team in the country, according to the website.
Bubernak noted that students were also connected to mentors like Emery Sutherland, an engineering student from the Southwestern Indian Polytechnic Institute in Albuquerque.
"In the end our team had a robot to take to competition," noted Bubernak.
Through participation in the BEST contest, students gain experience in problem solving, analytical thinking, analyzing, solving problems, making decisions, and understanding the practical use of math concepts, according to NMSU's website.
Students were also required to produce an engineering notebook and do a marketing presentation.
Bubernak said she asked team members what they learned from the robotics challenge.
"I learned how to program," one student said.
"I liked how we worked as a team and with (Rio Rancho's) robotics team," another student said.
"We are super excited and proud of ourselves for collaborating as a team," Bubernak said. "We intend to keep pursuing and maintaining a strong robotics team for the future."
Bubernak received the Dr. Sheila Horan BEST coach award, which goes to coaches who exemplify leadership, inspiration, and helpfulness.
---