Guest Column | Code Talker John Kinsel turns 106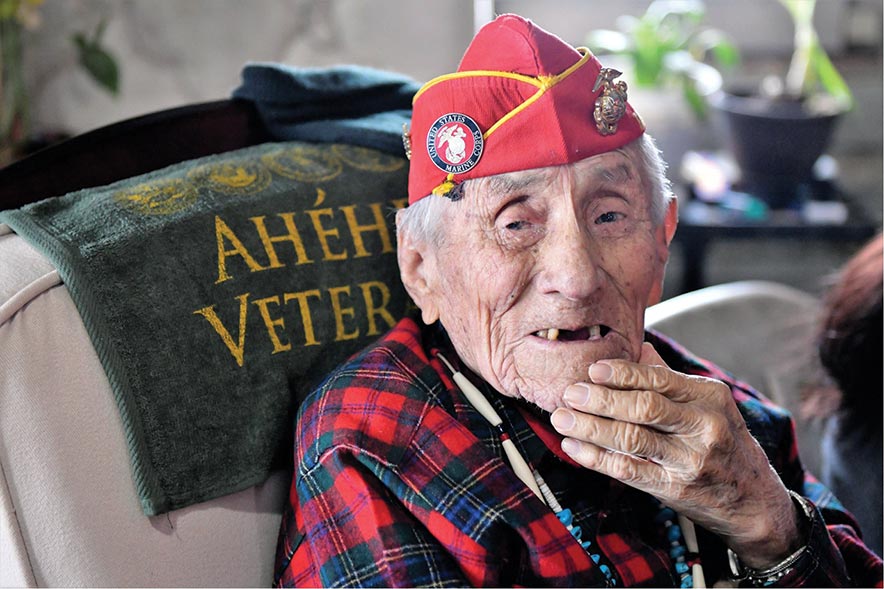 By Ruth Kawano
Editor's note: Bazhnibah (Ruth Kawano) is a retired U.S. Air Force flight nurse. She is a photographer and a writer based in Window Rock.
How does one become a Navajo Code Talker, go through so much chaos on battlefields, and maintain sanity after being discharged from a military war?
John Kinsel Sr. turned 106 over the weekend as we celebrated his birthday in the middle of winter. About 30 relatives and friends attended the celebration in Lukachukai, Arizona.
It was a beautiful day. The mountains and hills were white and blanketed with snow. Inside the log cabin, he built after the war was a wood stove keeping us warm and cozy. With abundant food and friendship, we reveled in this man's celebration.
I watched him and wondered how at the young age of 6, he had the foresight to attend school so early. Without a father, he managed to care for his young sisters and brother. After graduating from St. Catherine's High School in Santa Fe, he was 21 years old when he enlisted in the U.S. Marine Corps, then trained as a Navajo Code Talker in a communications company.
Soon after, he was off to battlefields in several islands – Bougainville, British Solomon Islands, Guadalcanal, Iwo Jima Volcano Islands, and Guam, in the Pacific. In Guam, he sustained a broken ankle from an artillery or mortar blast and had to be transported back to Hawaii, then onto the mainland. After a month's rest, he returned to San Diego, California, carrying on non-war duties.
Sitting in the dimly lit one-room cabin on a rocking chair, he was not capable of rocking as he was tired. He wore a red Pendleton shirt charmingly with a traditional Navajo turquoise yoo' and a necklace with a round silver medallion, and blue denim jeans.
Someone mentioned that he had this shirt for over 50 years. He wore his usual red Navajo Code Talker association cap. People chattered and laughed around him. When the food came, he ate hungrily. I spoon-fed him carefully with soft foods, and he sipped his coffee. He sat there in silence in between his bites.
He seemed content sitting there with his eyes closed. Still, as someone approached him, he would gesture the sign of the cross by touching his forehead with the right hand, middle of the chest, the left shoulder, and right shoulder as if to recite the phrase, "In the name of the Father and of the Son and of the Holy Spirit …." as he did at the Catholic schools he attended in St. Michaels, Arizona, and in St. Catherine's in Santa Fe, New Mexico. It was touching to see him do this with closed eyes. He even blessed his gifts as he was handed each one.
I could not help but look at him as he sat there, and I wondered what he was thinking. He was calm even with all the people and their conversations and seemed to be at peace with everything. I think of his time at war, running around communicating codes in Navajo, helping others to win the war on battlefields, places he never thought he would be on – green fields and rice paddies, thousands of miles away from Dinétah, arid and wide open.
He's seen blood and body parts that young men should not see. He's seen what munitions were like and how damaging they can be. He's seen the devastations and what war can do to people and Nations.
Years ago, he would talk non-stop about his war experiences, but today at age 106, he just wanted to sit and rest. Maybe he wanted to lie down and just nap, but he wanted to stay up. Everyone ate, surrounding him.
His huge cake was brought to him, and he again blessed it with hand gestures. He ate some of his cake which was served to him with coffee. He did this while his eyes would momentarily open. Then his gifts came. Clothing, tableware, a throw blanket, and a black and white photograph by Kenji Kawano. When asked who the person was in the photo, he stated, "me." The photographer was thrilled that he could still see and recognize people.
When Navajo elderly talk about aging, typically, they say that their goal is to get to 102 years old or S. I wondered what happens when they pass 102 years of age. I could not get an answer, but I cherished the man who could be a U.S. Marine, a Navajo Code Talker, and still be humble and experience peace within himself. John Kinsel may be the oldest Navajo man today, and we celebrated the many achievements in his lifetime.
We look forward to more days with him.
Mr. John Kinsel has also agreed to support and likes having a U.S. Postal Navajo Code Talker stamp in their honor. A group has been identified to conduct this endeavor. Anyone interested in this campaign can contact Bazhnibah at bazhnibah@gmail.com or rkawano@citlink.net. The group needs at least a million letters/postcards sent to the U.S. postmaster general asap to request a stamp be created for the Navajo Code Talkers.
Two other living Navajo Code Talkers are Peter MacDonald (6th Marine Division, Occupation Duty-North China) and Thomas H. Begay (5th Marine Division, served as Navajo Code Talker in Enewetak Atoll, Saipan, Tinian, Guam, and Iwo Jima) according to records established by Kenji Kawano for his book, "Warriors, the Navajo Code Talkers."
---