Local Diné Asdzáán expands small business in Gallup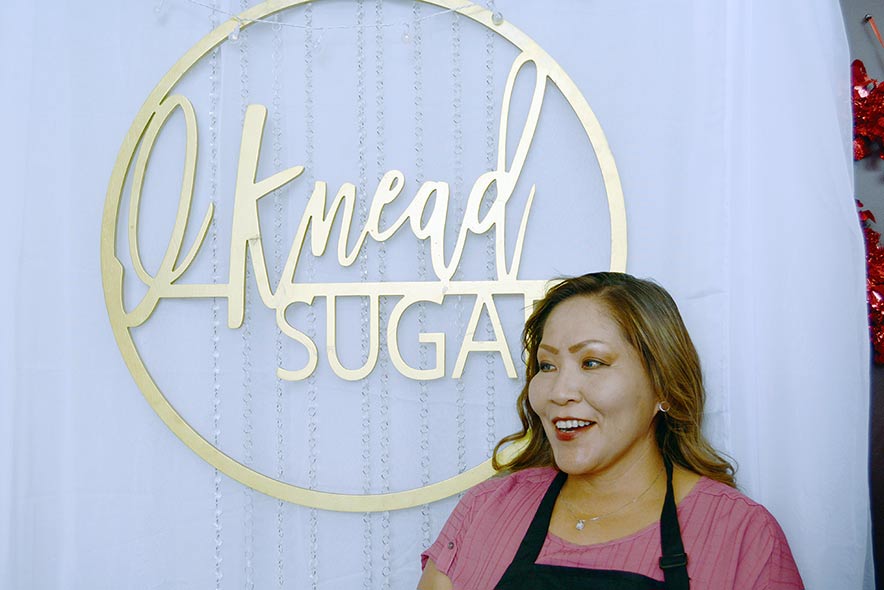 WINDOW ROCK
Six years ago, Jacqueline Ahasteen was a successful electronic engineer who made a life-changing decision to follow her passion for baking.
Ahasteen quit her engineering job, and in 2016, she opened I Knead Sugar, a cake specialty bakery in Gallup. I Knead Sugar makes customized cakes and baked goods for occasions such as birthdays, graduations, and baby showers and can customize her products for each guest. Her shop is an inviting and serene place to celebrate any occasion or to sit and relax for an afternoon.
When the opportunity of leasing a soon-to-be vacant storefront became available right next door, she acquired it and began putting her blueprints into the life of opening I Knead Sugar Tea Time.
"There are no tea shops or anything like this on The Navajo Nation or in Gallup," said Ahasteen, who is Naakaii Dine'é, born for Tódích'íi'nii. Her maternal grandfather is Honágháahnii, and her paternal grandfather is Tséńjíkiní.
Diné culture at heart
Born and raised in Window Rock, Ahasteen initially wanted to open her specialty cake and tea shop in the Nation. However, due to the lengthy, tedious, and obstacle-filled process of opening a business on her native land, she knew the best alternative to continue her passion was opening her shop in Gallup.
Ahasteen began baking at age 16. She followed recipes from an old cookbook her parents, Jack and Irene Ahasteen, used when cooking for the family. She turns the pages slowly because they are delicate, their worn pages falling out over the years due to her practice with many recipes within. She remembers when starting, baking pies was her favorite. She says her inspirations are her parents and her three children.
Tea Time was decorated with the Diné culture at heart. Four private themed rooms are The Corn Pollen Room, Turquoise Room, Coral Room, and Common Room. Ahasteen incorporated the four sacred colors in her Tea Rooms and felt it was imperative to honor her roots, provide a comforting place for her Diné guests, and provide some cultural insights for her non-indigenous clientele.
Tea Time can host parties of up to 35 people. She offers a wide variety of loose-leaf teas, including Navajo tea, which she serves with customized three-tier trays of baked treats, sandwiches, and desserts.
Both shops offer themed monthly events, such as "Calling All Princesses" and "Native Princess," where young girls dress in their favorite princess dresses and traditional wear and enjoy tea, baked goods, and activities together.
Next month for Valentine's Day, she will be hosting Galantine's Day event along with other small businesses in the area to offer an all-day pampering experience for their guests.
Goldie Lux Salon offers facials and make-up sessions, and Absolute Aesthetics offers facials, peels, and IV therapy. Glam Bar, also recently opened, offers haircuts, eyebrow threading, hair coloring, and blowouts. Also provided are chair massage, yoga, and belly dancing.
Ahasteen wanted an alternative for those wishing to spend the day with friends or just on their own to treat themselves to a day of fun and socializing at the Tea Shop after their day of pampering.
Made from scratch
Other activities at I Knead Sugar include paint night, where guests can enjoy their treats and tea while painting and mingling with friends and other guests. She also has instructional classes on how to bake pies during the holidays, gingerbread house making, and similar baking classes. There are also Diné cultural awareness and educational courses learning how to harvest traditional Navajo herbs and use them in teas and baking.
Ahasteen actively supports her fellow small business owners and the community. She opens her shop for others to hold events and display local artists' crafts and artwork. She also invites other small businesses without a storefront to sell their delicacies in her shop, creating unity among small business owners.
Many have sought out her shops to use as a venue for their events, such as inspirational speakers, local painters and artists, and musicians.
Camille and Erik Polik, owners of Rx Sourdough, were invited to sell their variety of bread at Ahasteen's grand opening Jan. 20.
"We both liked what we were doing in our community," Camille said.
Ahasteen met the Poliks at a farmers market a few months ago. They got to chat and decided, as small business owners, to help each other promote their businesses together.
Erik is the head baker who started making his own bread in 2019. Camille handles the social media and online orders and now helps with the baking. Like Ahasteen, the Poliks are health conscious. They wanted an alternative to processed foods and additives, so they devised their recipes and incorporated unprocessed foods within their products.
Everything is made from scratch, with no boxed products or preservatives, nor does she freeze the goods like other retail stores. With the price of eggs and other ingredients increasing, I Knead Sugar hopes to maintain current prices; however, the market is unpredictable, and she may have to make changes in the future to adapt.
Ahasteen's staff is primarily hired from non-profit organizations placing students in a workplace for a dedicated amount of time who receive on-the-job training through this program. Ahasteen firmly believes in supporting young adults transitioning from school to the working world by providing mentorship as they develop their skills and interests.
The shop also has baking classes which she has trained her staff to broaden their public speaking, demonstrations, and working with people to enhance their skillset further and build experience.
I Knead Sugar was asked to host the Inaugural Ball for President Buu Nygren and Vice-President Richelle Montoya on Jan. 10.
"It was exciting and a huge honor," Ahasteen said.
The task meant serving 400 people; they prepared hors d'oeuvres, Navajo tea, other flavored teas, blue corn cupcakes, cookies, muffins, scones, dessert cups, and plenty more eye-dazzling and tasty treats. The staff of five started at sunrise and ended the event close to midnight hour.
There were also to-go bags for guests to take home.
Vice President Richelle Montoya also surprised Ahasteen by attending the grand opening Jan. 19.
"I was so appreciative and surprised," Ahasteen said.
"I had no idea that the vice-president of the Nation would be attending my grand opening; that was such a treat."
Sugar-free option
Although Ahasteen bakes various treats, she has been a vegan for years and no longer eats sweets. However, the joy that she feels when baking and cooking for others means so much to her. She also adapts some recipes as sugar-free for clientele who prefer that option or may need that alternative in their diet.
The Chamber of Commerce was there on opening day for the ribbon cutting. Ahasteen has been a member for about two years now. She wants to thank them for all the support, promoting her shops and overall being a vital and positive source for all current and upcoming small businesses.
Ahasteen extends her appreciation to her family and adds a lot of their family time is spent at the shops, usually doing homework or helping out when needed. She is so thankful for their understanding, patience, and continued support in helping make her dream come true.
I Knead Sugar Cake Specialty Shop, and Tea Room are located at 118 and 120 Boardman Dr. in Gallup.
---