A-C-T-I-N-I-C: Shonto dominates Western Navajo Bee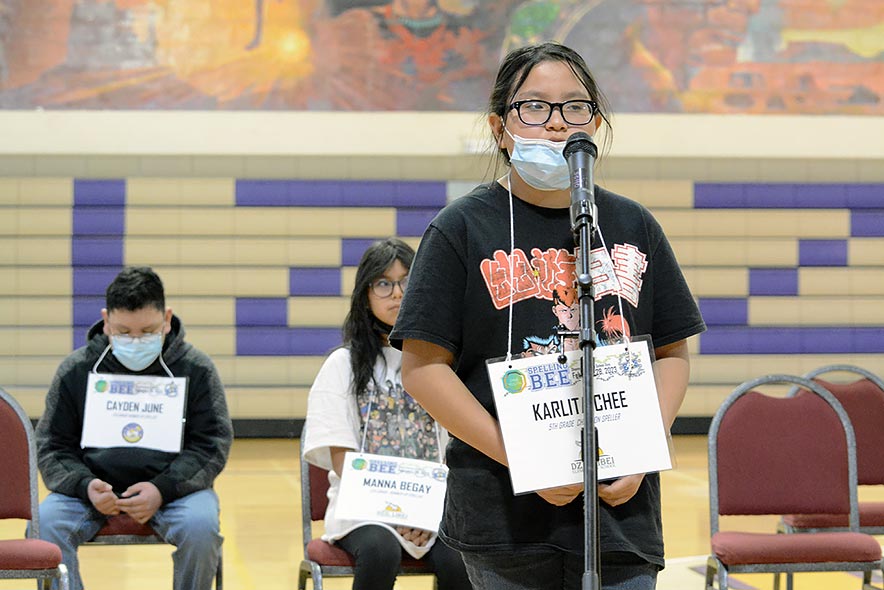 SHONTO, Ariz.
Twenty-two students from grades fourth to eighth grade competed in the fourth and final round of the Navajo Times-Western Navajo Regional Spelling Bee at Shonto Preparatory School.
Shonto Preparatory hosted one of the last two spelling bees on the Nation Tuesday in preparation for the Navajo Nation finals on March 9 in Ft. Defiance.
The competition was initially scheduled to take place in Tuba City last week. Still, the much-needed moisture also made driving conditions to Tuba City unsafe and out of the question for the students, staff, and families, and it was postponed to Tuesday.
The contest was relocated to Shonto Preparatory, which offered its facility because Tuba City Boarding School informed spelling bee organizers they would not be participating.
After completing the regionals, the winners will advance to the final spelling bee. The event winners will attend the 95th National Scripps Spelling Bee, May 30-June 1, at the Gaylord National Hotel and Convention Center in National Harbor, Maryland.
With 22 students competing in Shonto, the competition lasted nearly three hours.
Physical features
Jayden Jackson, 13, a seventh grader from Shonto Preparatory, was the champion for his grade class, competing against one other competitor. His winning word was "geography."
"My mom is my inspiration, and I just want to tell her I love her," Jackson said.
Diana Saganey, a teacher from Dził Łibéí Elementary School, transported and chaperoned the six students competing in the bee from her school.
One of those students was Manna Begay, who placed first in the fifth-grade round.
"Manna and her brother were pretty much readers by the time they were in kindergarten," Saganey said.
Saganey has known Manna and her brother since they started kindergarten. She attributes the siblings' success in school to their mother and extended family support.
"Their mom is really good about reading to her children, as well as the grandpa is very active in their lives," Saganey said.
Saganey explains that they were already excellent spellers when she began teaching the siblings.
Begay elaborated on her apprehension. Begay says she has been practicing for precisely one week and two days. Her nervousness, she says, was because she practiced so hard, and she really wanted to win.
"I am happy, but I was so nervous I was shaking," Begay said.
Begay is looking forward to the finals and says she is a little scared, knowing there will be many more students from all over the Nation, but she is preparing and continuing to study for that competition.
Four schools down to three
Tyler Manson, program and project specialist for the Office of Diné Youth, has been sponsoring the bee for nine years. He says 18-21 schools typically generally participate in the Western Navajo Regional Spelling Bee, and this year, only four registered.
"I was pretty upset at the low turnout," Manson said.
On Monday, Manson reached out to the schools registered to compete; however, when he confirmed attendance with the schools, Tuba City Boarding School stated it would not participate.
This year's school participation has seen a drastic reduction in participation from prior years, and the COVID-19 pandemic halted the competition in 2020. However, Manson feels there might be an additional factor for the low registration: a general shortage of teachers.
Spelling bees are considered an extra-curricular activity, not a part of the school curriculum. Principals have difficulty finding teachers to volunteer and sponsor the spelling bees. Manson has received feedback that it is difficult to find teachers who can take on the task and see the extra time, coordinate, and practice to help the students.
In the Scripps National Spelling Bee, there is written test competitors have to pass in addition to the spelling. The written portion of the bee is based on definitions.
The sponsors of the Navajo bees implemented a written portion in the Navajo bee's finals about four years ago to help the students gain familiarity and prepare the students for that aspect of the national level.
Based on the written portion, the students must meet at least 60% or greater to advance to the oral bee. The champion from the Navajo finals will move the Scripps.
The Navajo Nation Finals will be held March 9 in Ft. Defiance.
2023 Navajo Times-Western Navajo Regional Spelling Bee
Pronouncer: Krista Allen, editor for Navajo Times
Sponsor: Tyler Manson, Office of Diné Youth-Tuba City
Head Judge: Chantz Samuel, Office of Diné Youth
Judge: Tyler Manson
Bailiff: Delta Higdon
Fourth grade
Champion: Bryan Doctor, Shonto
Runner-up: Noah Patterson, Dził Łibéí
Rounds: Six
Championship word: Zebra
Fifth grade
Champion: Manna Begay, Dził Łibéí
Runner-up: Karlita Chee, Dził Łibéí
Rounds: 17
Championship word: Benefited
Sixth grade
Champion: Adrian Maimone, Shonto
Runner-up: Naomi White, Shonto
Rounds: Three
Championship word: Inverse
Seventh grade
Champion: Jadyn Jackson, Shonto
Runner-up: Jayden Jones, Shonto
Rounds: One
Championship word: Geography
Eighth grade
Champion: Shania Smith, Shonto
Runner-up: Antonio Alvarez, Shonto
Rounds: 10
Championship word: Actinic
Completed spelling bee dates:
Feb. 2 – Chinle
Feb. 9 – Crownpoint
Feb. 15 – Shiprock – This bee didn't happen because area schools didn't register.
Feb. 28 – Ft. Defiance
Feb. 28 – Shonto (relocated from Tuba City)
Upcoming Navajo Nation final
March 9 – The final bee will take place at the Office of Diné Youth-Ft. Defiance. The head judge is Chinle Council Delegate Shawna Claw and the pronouncer is former Navajo Times reporter Cindy Yurth, who retired in spring 2021.
---