'All we get are orange cones'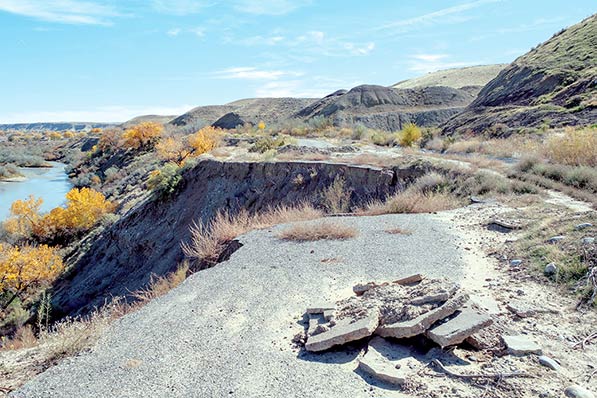 Route 367 collapses; residents scramble for alternates
UPPER FRUITLAND, N.M.
A series of road collapses along a major BIA artery in Upper Fruitland has residents of all ages scrambling for alternate routes.
Route 367 is a scenic, seven-mile loop that parallels the San Juan River and joins on both ends to Navajo Route 36, the major thoroughfare connecting U.S. 491 and N.M. 371.
When a house-sized section near the western end of the road crumbled five years ago, however, no one stepped in to repair it.
"No one wanted to take responsibility for it," said Navajo Nation Council Speaker LoRenzo Bates (Nenahnezad, Newcomb, San Juan, Tiis Tsoh Sikaad, Tse'Daa'Kaan, Upper Fruitland).
Instead of repairing the road, the Navajo Division of Transportation simply closed it, he said.
"Every entity involved rationalized their inaction," Bates said. "Everybody said, 'We're not responsible. We didn't create this.' So NDOT just shut it down."
The collapse, caused by leakage from the nearby canal, rendered the road impassible, forcing residents to detour around it, said Ira Dodge, who has lived on Route 367 his entire life. Since its construction as the community's main highway more than half a century ago, the road has provided access to dozens of residences and served as a bus route for public and BIA schools.
---