At stormy meeting, police chief quits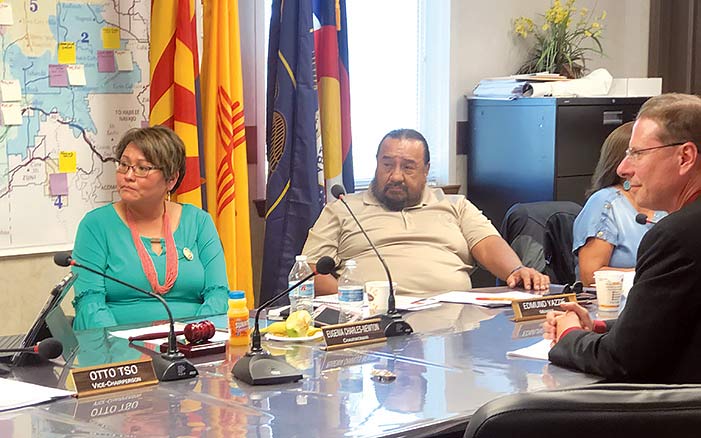 WINDOW ROCK
Unable to get a word in edgewise with delegates during Monday's Law and Order Committee meeting, a frustrated Chief of Police Phillip Francisco took off his badge, placed it on the table and stormed out.
Before that, Francisco had asked of Delegate Raymond Smith, "Can I finish what I was saying?"
Smith refused.
"I'm sorry but I have things to do," Francisco said. "I've been sitting here all day … I don't want to be lectured.  I want to tell you what the reasons were, but I keep getting cut off. I'm done. Good luck finding someone else who can do a better job."
As Francisco and Smith raised their voices to one another, LOC Chair Eugenia Charles-Newton and committee members Vince James and Eugene Tso did not intervene and looked on until Francisco left. Also in attendance werre Health, Education and Human Services Chair Daniel Tso and HEHSC member Pernell Halona.
What had started off as a regular report quickly escalated to a confrontation between Francisco and Smith, vice chair of the Budget and Finance Committee, who is also former vice chair of LOC.
Francisco had started to answer questions posed to him by Charles-Newton about emails about a recent case and its handling.
"This is to discuss the back-and-forth emails that got out of hand," said Charles-Newton, who asked Francisco if he would like to go into executive session.
Francisco declined, opting to continue the discussion in public.
"We asked (Department of Public Safety Director Jesse) Delmar for three questions," said Charles-Newton. "The question, Why was the person released? Now we have been asked as a Council why we have this revolving door."
She was mindful of not speaking more on the case since the information to it can't be discussed publicly.
Charles-Newton expressed her unhappiness with the response to the email — being ignored by Francisco and dismissed by Delmar — especially when the public was questioning the delegates about this particular case.
"The emails started coming," said Charles-Newton. "As chair I won't tolerate that. I told him (Delmar) to stop. Then you two (Francisco and Dale West, acting criminal investigators director) got involved.
"Then we had other members from other committees get involved," she said. "I know you said because of the sensitive nature of this case you can't release information, which we understand to an extent."
Francisco had waited for nearly six hours for his turn to give a report to the committee. Before he started he said he was unsure what the committee wanted him to report on so he gave them a brief overview on everything Navajo Police Department is currently working on.
In the end, rather than asking questions about his report, which included an update on the police academy and field training for graduates, the recruitment process, and a new website for the police station that will be up and running soon, delegates instead wanted to discuss an email exchange between themselves and Delmar, and their flawed communication.
That discussion went on for about 45 minutes.
"Public Safety and criminal investigators need to work together to inform the public," said Charles-Newton. "I was in Salt Lake City and in the midst of our meeting with the chief of police there he got called into doing a press conference. He did this press conference and I was in awe that this police station could provide information on this case even though it was limited."
After hearing this, it was Francisco's chance to answer the committee's questions.
He first apologized that he wasn't able to respond to Charles-Newton and her questions that day, but he had had a family emergency to deal with and the situation was handled by his deputy chief, Daryl Noon.
Committee member Eugene Tso was the first to interrupt Francisco asking that legislative counsel be present before they went further.
That's when Smith chimed in and expressed agitation at Francisco's statement.
He said loudly that during the 23rd Council when he was on the LOC they let Francisco and Delmar get by.
"If I was to go back to the academy and raise my hand, by golly that's a 24-7 duty," said Smith, who was a lieutenant with the Navajo Rangers.
"Yes, I'm lecturing you guys," he said. "When I sat here on Law and Order we just smoothed you guys over. And you know it, because of right here, now we have a chair who says, 'We have folks out there who want to know what's happening.'"
Vice Chair Otto Tso had left the room before Francisco and Smith altercation began. Delmar also was not in attendance during the confrontation. Law and Order committee member Edmund Yazzie was also not present at the meeting.
---