Chinle elders and children still waiting for help from flooding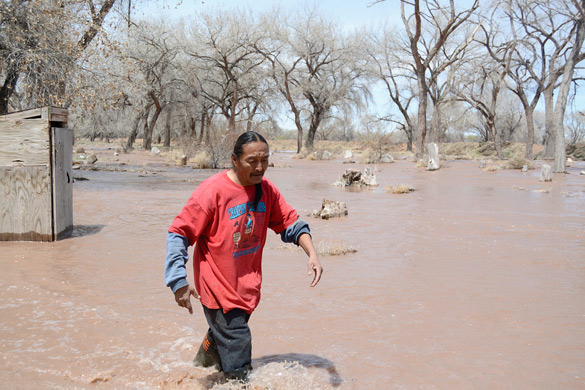 CHINLE
Around 250 Chinle residents are still affected by the flooding that occurred last month.
They are holding onto hope as they await acknowledgment and assistance from Navajo Nation naat'áanii. However, all they have to hear is silence.
Over 30 days have passed, and one traveling through the Chinle community known to locals as "Jurassic Park" still looks like the flooding just occurred. Although the water has receded and the temporary reinforcement of the berm seems to be holding for now, families have been displaced as homes are unlivable. It is filled with mud and debris, with some homes shifting off their foundations.
Some still lack water and electricity, making it hard to cook meals or refrigerate perishable foods and medications.
There are no temporary bathroom facilities, and to add to that, there is a potential health hazard with some sewage lines being compromised as they are buried by sand and floodwaters. Another health hazard is the growing mold in homes.
Chinle Chapter President Rosanna Jumbo-Fitch has aggressively provided and sought resources since the flooding started.
Read the full story in the May 25 edition of the Navajo Times.
---