Code Talker Etsicitty passes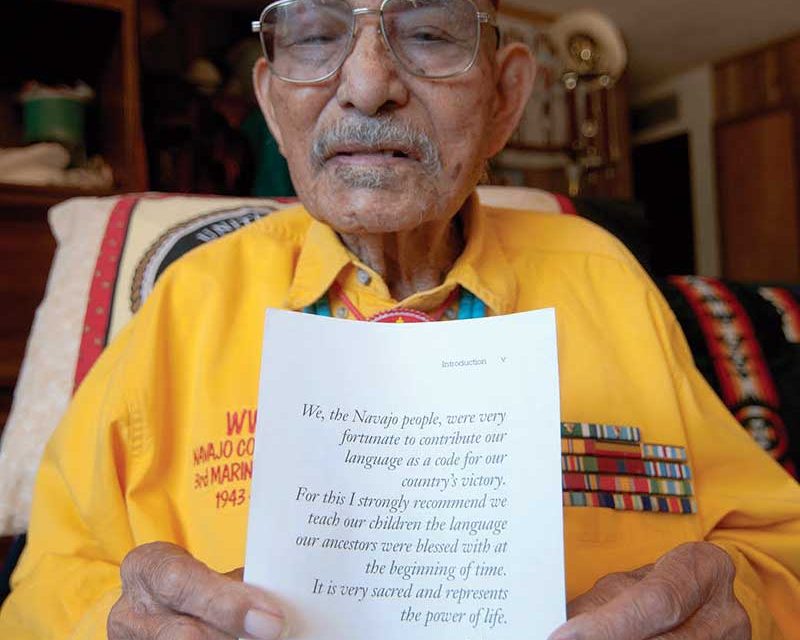 WINDOW ROCK
Arizona State Sen. Carlyle Begay (D-Dist. 7) reported Tuesday the passing of Navajo Code Talker Kee Etsicitty.
Etsicitty, 93, was a lifelong resident of Chichiltah, a small Navajo community south of Gallup. His passing brings down the number of Code Talkers who are still alive to about 20.
"Today we mourn the loss of Navajo Code Talker Kee Etsicitty," Begay said in a statement released Tuesday morning.
"I offer my heartfelt condolences to Mr. Etsicitty's family and friends. During World War II, Mr. Etsicitty joined the U.S. Marines and heroically served in the battles of Guadalcanal, Guam, and Iwo Jima.
"The invaluable contributions from Navajo Code Talkers such as Kee Etsicitty helped ensure the ultimate victory of the United States in the war. Mr. Etsicitty's passing will be felt across the Navajo Nation. Please join me in honoring the life and legacy of a great hero by praying for his family in this difficult time," Begay said.
Chimed in Arizona Gov. Doug Ducey, "Kee Etsicitty will never be forgotten. His legacy lives on in the hearts of all Arizonans and Americans. Our thoughts and prayers are with him, his family and all who helped change the course of our country's history as members of the 'Greatest Generation.'"
In an interview with the Navajo Times last October, Etsicitty, which is pronounced the same way as Etsitty, he talked abut the unusual spelling of his name, saying it came during the time he was in the Marines and the paymaster had a hard time spelling Navajo names.
Sixty Navajos went in at the same time he did in 1943, he said. A total of some 420 Navajos served as Code Talkers during World War II.
Flags on the Navajo Reservation will be flown at half mast in his honor.
---