Missing, murdered task force calls for unity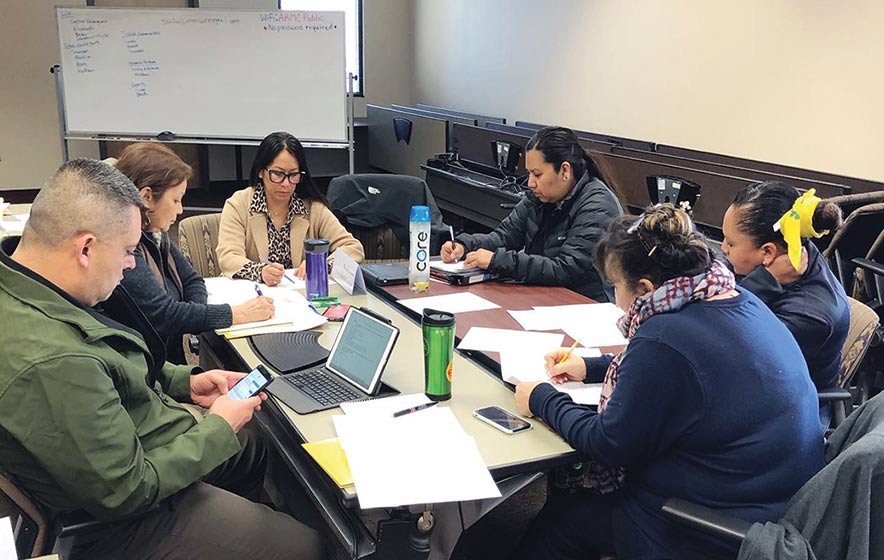 By Colleen Keane
Special to the Times
ALBUQUERQUE
Native women are up to 10 times more at risk of being murdered than any other group of women in the United States, according to federal justice reports.
This alarming statistic has remained the same for years.
"Which one of us is going to be next?" asked Amber Morning Star Byars, Choctaw/Chickasaw, during the New Mexico Legislature's first Indigenous Women's Day held March 1, 2019.
Besides Byars, U.S. Rep. Deb Haaland, Laguna, D-N.M., Navajo Nation Council Delegate Amber Kanazbah Crotty and advocates from Pueblo Action Alliance, Three Sisters Collective and Tewa Women United were on hand to impress upon the Legislature and governor that the crisis of missing and murdered indigenous women can no longer be ignored.
A few weeks after Indigenous Women's Day, Gov. Michelle Lujan Grisham signed House Bill 278, which was sponsored by representatives Andrea Romero, D-District 46; Derrick Lente, D-Sandia Pueblo; Melanie Stansbury, D-Bernalillo; and Wonda Johnson, Diné, D-San Juan/McKinley).
HB 278 ordered the state Indian Affairs Department to create a task force to identify missing and murdered indigenous women, action steps that need to be taken to remove barriers to justice, and engage partnerships and share resources.
The task force includes Phefelia Nez, wife of President Jonathan Nez, and representatives of New Mexico's Apache tribes and Pueblo governments. It also includes the Bureau of Indian Affairs, State Office of the Medical Examiner, non-governmental legal and social service agencies, a survivor and Lynn Trujillo, Indian Affairs cabinet secretary. Trujillo is the chair.
There have been seven meetings since October, convened online since the coronavirus pandemic.
On Aug. 12, Stephanie Salazar, Diné/Spanish, general counsel for the Indian Affairs department, presented the task force's preliminary findings at a virtual meeting hosted by Congregation Albert's social justice committee.
Salazar began her presentation by identifying her maternal clan as Tó'áhani (Near The Water People) and her paternal clan as Kinyaa'áanii (Towering House).
Barriers
"There is no justice," Salazar said, detailing an extensive list of barriers that include jurisdictional issues, limited law enforcement and numerous gaps in services such as the need for tribal public safety funds and educational outreach, training on human trafficking, collaboration with advocacy groups and governmental agencies, police and medical examiner follow-up, helping families fill out missing person reports, bereavement counseling, and including tribal affiliation into state and federal data fields on missing person reports, to name some.
"While race is a required field in the National Crime Information Center, tribal affiliation and ethnicity are not," stated Salazar.
On jurisdictional issues, she said, "Families report that they are bounced to different jurisdictions. Sometimes they don't know exactly where (the abduction) happened. A lot of times it can lead to finger-pointing at different agencies and it can be very frustrating for families who are trying to make a report and get information."
Factors compounding the crises are homelessness, substance misuse and mistrust of institutions.
"Mistrust of institutional systems is very much real. Sometimes the survivor is unwilling to provide a statement and without that it is increasingly difficult to get justice for that woman," she said.
She added that the task force recognizes that Native youth are most at risk when they are caught up in mainstream foster care systems.
"That's why it's so important to work with the cities, (counties and states) where children get caught in the systems," she said.
Non-Native child welfare systems are supposed to transfer tribally enrolled children back to tribal courts under the Indian Child Welfare Act of 1978. But, if the mainstream agency doesn't identify tribal affiliation, the child can get lost in the system and left without protection of their family, tribe and community.
Outreach & collaboration
In reaching out to community organizations that have been working on the ground for a long time, like Tewa Women United, Salazar called out for unity.
"It is through togetherness we will solve the crisis once and for all," she stressed.
During her presentation, Salazar brought attention to the work of Meskee Yatsayte, Diné, who organized the "Navajo Nation's Missing Persons Update."
Through the update, Yatsayte helps families by creating and distributing flyers, reaching out to the media and fundraising. Recently she raised money to purchase a drone to help in missing person searches over rough terrains.
Denise Billy, Diné, coordinator for the New Mexico U.S. Attorney's Missing and Murdered Indigenous Persons office, has been networking with the task force and the task force to help identify missing Diné relatives.
According to a statement from the U.S. Attorney's office, the Gallup Police recently reported 12 missing persons and Farmington Police reported 13 missing and four active homicide cases. Billy is still waiting to hear from the San Juan County Sheriff's Department, Albuquerque Police Department and others.
Community outreach
To secure community input from the 23 New Mexico tribes, nations and Pueblos, the task force is distributing three surveys in September and October, one for service providers and law enforcement, one for community members and one for survivors of violence.
Anyone interested in filling out the survey can call 505-476-1600.
"The local voice is critical to capture the true need that exists in each community to address the crisis," Salazar said, adding that care is taken to ensure that families and survivors aren't re-traumatized.
The task force also plans to work with the federal initiative Operation Lady Justice. As part of Operation Lady Justice, a cold case office has been set up at the BIA complex on 12th and Indian School.
Beyond the Task Force
The task force has a deadline of Nov. 1 to present a report to Lujan-Grisham and the Legislature. After that, it will be up to the state to take action on the recommendations.
"We need a dedicated staff. There is a lot of work to be done," Salazar said.
She added that efforts also need to focus on prevention.
"How do we keep people from going missing?" she asked.
Information: iiad.state.nm.us or denise.billy@usdoj.gov, Navajo Nation Missing Persons Update on GoFundMe and Facebook, and visit navajommdr.com
---