Shiprock flooding displaces 27 families; prompts emergency declarations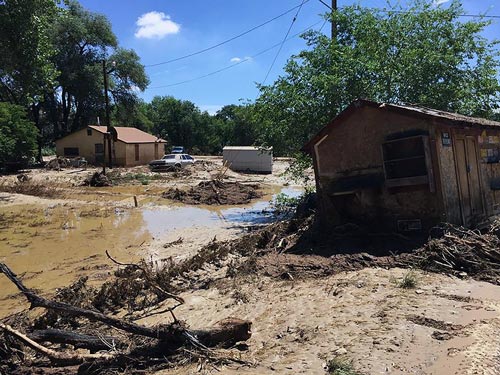 The Shiprock Chapter early Saturday morning declared a state of emergency after floodwaters displaced 27 people and washed away entire homes, farms and livestock.
The flood occurred in the Salt Wash area, about four miles northwest of Shiprock. It began with heavy rains late Friday night, said Chapter President Duane "Chili" Yazzie. By midnight, about 30 residents had sought refuge at the chapter house, where they slept on cots.
Only minor injuries were reported, but at least two families lost everything they had, Yazzie said.
"At least 10 families had to leave their homes because of the water," he said. "They came with stories about rising water, standing in their homes with water at waist level, water rushing in with the sound of thunder."
The Shiprock Chapter is seeking donations of water, food items, bedding, linens, hygiene and toiletry items, toys, school supplies and clothing. Drop off donations anytime at the chapter house.
Meantime, President Russell Begaye and Vice President Jonathan Nez signed a Declaration of Emergency on Sunday, Aug. 7, ordering the heads of all Navajo Nation Divisions and Departments to immediately respond to those communities impacted by the heavy rainfall caused by the recent monsoon storms.
The declaration also applies to applicable Chapter Service Coordinators and orders all aforementioned heads and directors to coordinate response to areas impacted by the rainfall.
On Friday, Aug. 5, the community of Shiprock was impacted by flash floods. The flash floods destroyed several homes, roadways and also affected livestock.
"I traveled to Shiprock on Saturday to assess the damage to the community. Roads had been washed out and homes had been destroyed," President Begaye said. "Although we are thankful for the monsoon rains, at this time we see that it's necessary to implement a declaration to assist those that are currently displaced and are in need of food, clothing or shelter."
Many residents affected by the rainfall were relocated to the Shiprock Chapter House where the Red Cross was set up to assist families.
"Many of our community members have been severely impacted by the recent monsoon rainfalls where their homes and property have been damaged or destroyed," Vice President Nez said. "We are asking all departments and divisions to assist in responding to affected communities."
Because many have been negatively impacted in ways that have affected their livelihood, the Office of the President and Vice President implemented this Declaration of Emergency to direct resources in assisting these communities.
---