Vietnam veteran Studi offers encouragement, pride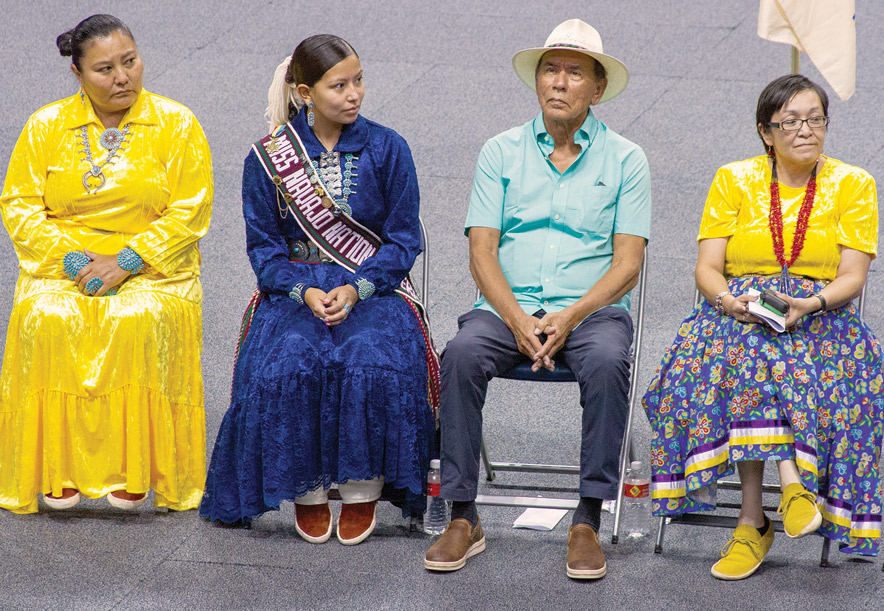 By Rick Abasta
Navajo Times
FORT DEFIANCE
Wes Studi is a grunt.
Studi, Cherokee, is a Vietnam veteran and served in the U.S. Army with the 9th Infantry Division, Alpha Company, 3rd Battalion. 
He was the guest speaker for the Navajo Nation Stand Down and Gourd Dance. Studi said the event moved him because it was conducted in Navajo. 
"I'm totally impressed with the proceedings done in one's own language. I wish we could do that in my tribe," he said after taking the microphone as guest speaker July 14.
Studi had a life before show business, and a large part of that was the military, he said, adding that his true beginnings were from the institutional world of boarding school. 
He asked if there were any graduates from Chilocco Indian Agricultural School present – there were none. 
"Well, then, you guys are lucky. That was the beginning of my military service," he said. 
Studi said he spent time in Ft. Benning, Georgia, before volunteering to serve in Vietnam. 
"I did twelve months in Vietnam with the grunts, the 11-Bravo infantrymen of the Army," he said. 
"I spent my time in Vietnam as a volunteer, and people would say, 'I think you're crazy that you've done that,'" he said. "I, on the other hand, would differ with them in terms of I actually learned something in what I would do in a military conflict type of situation."
One of the things he learned was never to give up, no matter the odds. 
"What I really learned was that the practice of war, the way that it's done a lot of times, is the absolute ugliest thing that humankind can do, and I feel for the people of Ukraine right now, the people who are actually fighting for their lives," he said. 
Read the full story in the July 20 edition of the Navajo Times.
---