Visionary Diné artist passes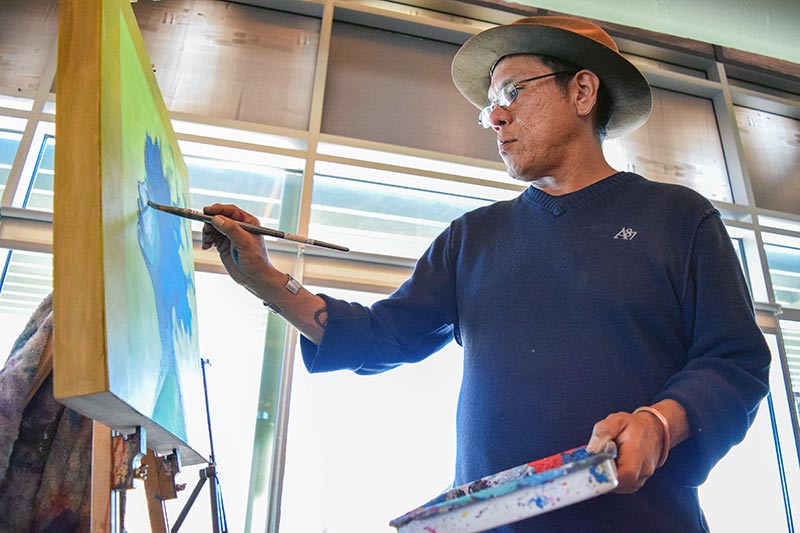 SHONTO, Ariz.
Bahe Whitethorne Jr., a visionary Diné artist whose extraordinary talent spoke about contemporary issues through the romance of painting, died Monday, March 26. He was 41.
His family announced the death. No cause was given.
Whitethorne was the son of Shonto artist Baje Whitethorne Sr. and Priscilla Whitethorne.
Bahe, better known as "Buddy," was Tsi'naajínii and born for Lók'aa' Dine'é. His maternal grandfather is Tábąąhá and his paternal grandfather is Hashk'ąą Hadzohí.
Bahe was born in Flagstaff and attended Thomas Elementary School and Coconino High School.
"In a way, it was kind of like I was born and raised – bred to be an artist," Bahe said in recent interview with the Navajo Times in Flagstaff. "Growing up, my aunts, my uncles and my dad – everybody in our family – (are) artists. They're beading jewelry or some sort of painting. So, growing up, I just figured I could do art.
"Once I got into grade school, I ran into some of the other kids there," he continued. "They were like, 'I can't do this, I can't do this.' And they just looked at me really weird and odd because I never met anybody that couldn't do art."
Growing up, Bahe said, he often watched his father, Baje, paint and make a living as an artist and, even at a young age, saw how hard it is to make art.
"But at the same time, the easiest thing that I could do was just draw," Bahe said. "So, growing up, I watched a lot of cartoons. I watched Japanese anime, Marvel, and DC Comics.
"My dad would let me use his film camera, so when my cartoons would show, I would sit there and take pictures of all the (cartoon) introductions," he said. "He'd take them to the developer and it would be a week before we'd get (the pictures) back. And from that, I'd just sit there and draw all my favorite cartoons."
Bahe grew up painting alongside his father and traveled to art shows at venues across the country every weekend.
"My dad would say, 'It's a family business,'" Bahe said. "Growing up, I just did art. Everything was art. By the time I got to high school, I was a little rebellious and told my dad that I'm going to go to school for computer science. So, I tried to deny art completely."
It was not until one day he realized computer science was not for him and started learning graphic design through online classes and tutorials after being inspired by the fantasy/science fiction film "Star Wars: Episode I – The Phantom Menace."
"I told my dad I'm not going to do traditional art, I'm just going to do digital art. He said, 'That's great, that's great,' and I was showing him all the stuff I was doing," Bahe said. "He (asked) how I'm going to sell them, and I said, 'I'm going to print them and sell them.' He said, 'Well, you better be careful because prints can sometimes devalue your art.' I never heard about that."
Bahe held different jobs throughout his life, including working at Walmart and handling dynamite at a construction site, which he says was interesting. But art is what enabled him to find himself and even lose himself at the same time.
"I said, 'All right, I'm going to be an artist, I'm going to do this.' And I told my dad," Bahe said. "He said, 'All right, for the first three years, you're going to be broke, you're going to starve and you're not going to have any money.'
"Sure enough, I was broke, I lost my apartment, lost my car, and at the end of it all, I found myself in my dad's studio, sleeping in his loft," he said. "I decided to be an artist and my path led me back to my dad's studio.
"So, I said, 'OK, this is where I'm going to start.' And I went to sleep surrounded by his artwork," Bahe added. "I woke up surrounded by his artwork and said, 'OK, I'm supposed to get more than I did as a kid from my father now.' He became my mentor again."
Bahe told the Navajo Times in December that he is working on a vibrant mural project that extends across a bus at the STAR School in Flagstaff. He has worked on a number of murals across the region, including one on the walls of Tuba City Boarding School in Tónaneesdizí.
A graveside service will be held at 10 a.m. Friday at Citizens Cemetery in Flagstaff. A reception will follow at the Whitethorne residence, 7695 Nell Dr., Flagstaff
---