Shelly signs bills for new special presidential election and reinstatement of election board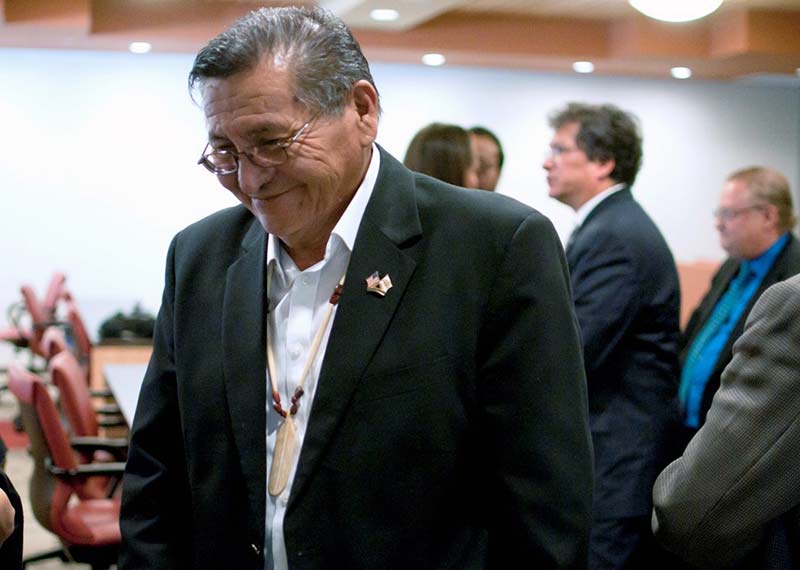 WINDOW ROCK
Navajo Nation President Ben Shelly will continue to serve as tribal leader until a new tribal president is elected.
That decision was reached on Friday at a meeting between the Office of the Speaker of the Navajo Nation Council and Shelly's office just a day before the Navajo Supreme Court was scheduled to hold a hearing on the subject.
The Supreme Court met on Saturday morning at the Navajo Division of Transportation conference room in Tse Bonito, N.M.  They met in regards to the clarifying motion filed by the Navajo Nation Department of Justice asking the court to decide who should be president after Tuesday when Shelly's term as president officially ends.
The legislative counsel had issued an opinion that tribal law provides that the Speaker of the Navajo Nation Council will serve as interim president, but the Justice Department's opinion cited other sections of the Navajo Nation Code that allowed the outgoing president to stay in office until a successor was appointed.
On Saturday, the Supreme Court accepted the settlement that was agreed to by the Speaker's office and the President's office.
Shelly attended the hearing and said that he is prepared to stay on as long as he is needed and will then turn over the reins to whoever is officially elected as the next Navajo Nation President.
Shelly said he plans to talk to his appointees before he issues a statement as to how many of them will be staying on as well.
Under the terms of the settlement, Shelly will take the oath of office again on Tuesday. Deswood Tome, a special adviser to Shelly, said the site and time of the swearing-in ceremony has not yet been determined. It could be held at in the president's office or in the Navajo Nation Council Chamber.
Legislative Branch officials said Shelly's swearing-in would not be part of the 23rd Navajo Nation Council Inauguration, which will be conducted at the Window Rock High School Fighting Scouts Events Center in Fort Defiance, Ariz. on Tuesday morning.
(Editor's note: This article corrects an earlier version that said that Shelly would be part of the council swearing-in ceremony at the tribal fairgrounds.)