Deschene case goes back to office of hearings and appeals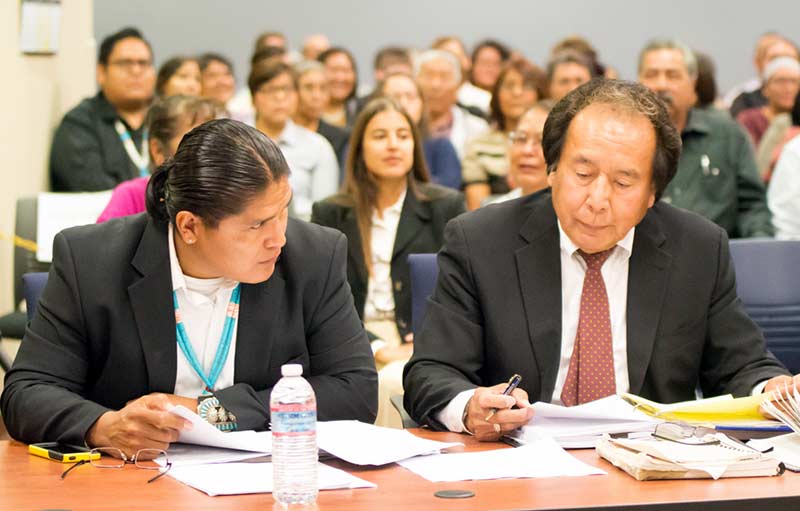 TUBA CITY
Dozens of people stood in line Friday morning at the Tuba City Judicial District to hear oral arguments regarding whether Christopher Clark Deschene should be disqualified from being a candidate for the office of the Navajo Nation President because he does not speak fluent Diné Bizaad.
Former Presidential Candidate Dale Edison Tsosie from LeChee, Ariz. on Sept. 5 filed a sworn challenge in the Office of Hearings and Appeals alleging that Deschene, also from LeChee, is not qualified for running for office because "he cannot speak the language fluently."
A briefing schedule immediately followed.
Former Presidential Candidate Hank Whitethorne from Shonto, Ariz. on Sept. 19 filed a similar appeal against Deschene raising the same legal issue.
Both actions were dismissed by OHA.
The Navajo Nation Supreme Court on Friday afternoon remanded grievances filed against Deschene to OHA. The court ordered that OHA conduct a hearing within five business days.
"People say Chris lied, but he told people that he was learning the language," said Cameron Chapter President Milton Tso. "People still voted and that was the people's choice."
The court on Friday afternoon found that the qualification for "fluency" is a reasonable regulation to a candidate's right to political liberty.
"The Navajo language is hard to understand," said Army veteran Andrew Kelley. "That's the reason we won (World War II)."
Kelley, who waited outside the judicial court for the decision, says Deschene not knowing his language is "nothing" because learning it well enough is possible.
The court also clarified the election law by providing a definition of being fluent in Navajo. The court then instructed OHA to apply that law in the next hearing to determine if Deschene meets the requirement.
The basis for the court's decision is based on Diné Beenahaz'áanii (Navajo law).
---