Alamo Navajo boys rally past Diné Warriors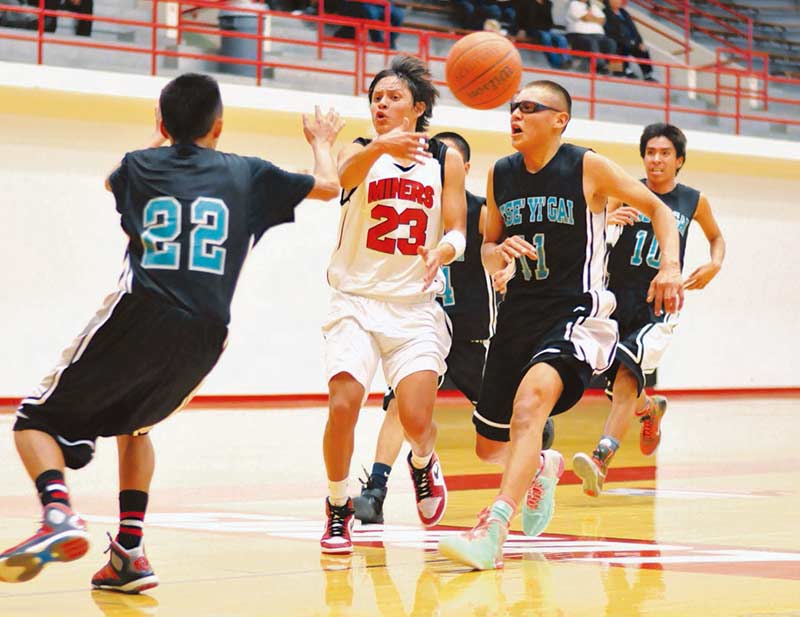 ALBUQUERQUE
The Alamo Navajo Cougars took advantage of a seismic shift in the third place game of the small schools boys bracket at the 4th annual Striking Eagle Basketball Invitational.
The complexion of the game took on a different course when both teams were assessed a double technical.
According to Alamo Navajo head coach Marcus Pino Sr., one of his player and a Tsé Yi' Gai player were penalized for unsportsmanlike conduct during the match.
"They both had to sit down," Pino said, while adding they took control of the game thereafter by erasing a five-point halftime deficit and turning it into an 81-56 win.
With Tsé Yi' Gai's best ball handler on the bench the turnovers started to pile up as Alamo Navajo outscored the Diné Warriors 51 to 21 in the second half.
"We started pressing them and that was how we got a big lead in the third quarter," Pino said.
All-tournament selection Marcus Pino Jr. was a force in that second half as the Alamo Navajo sophomore guard poured in 18 of his game-best 30 points.
He also got help from senior Anthony Guerro as he finished the game with 23 points while Ben Guerro Jr., added 13 and Jose Secatero pitched in 10.
For Tsé Yi' Gai, they had four players in double figures with junior Jaren Castillo leading the way with 15 points. Senior Demar Whitehorse finished with 14 while freshman Jacob Trujillo and sophomore Tyrell Johnson had 11 and 10 points, respectively.
Tsé Yi' Gai head coach Vinton Werito said they lost their footing in the second half but he felt the difference came down to missed free throws.