Chinle competing in Hoophall West Classic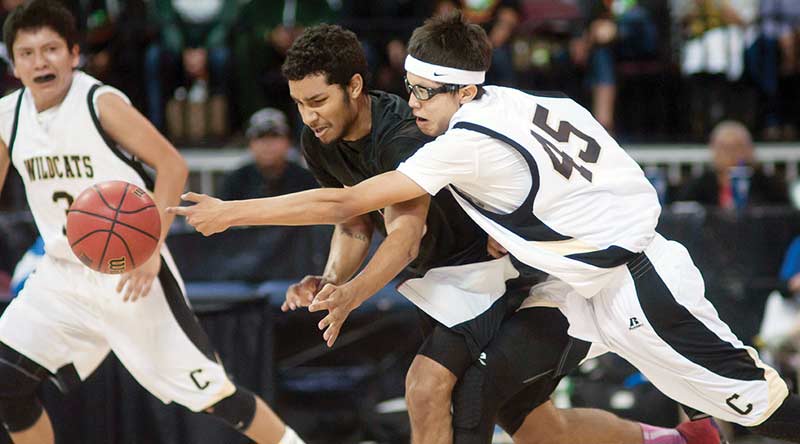 FORT DEFIANCE
The Chinle Wildcats have their hands full with this year's Hoophall West Classic.
Chinle is one of eight high school teams invited to compete in the second annual Hoophall West Classic, which began last night at Chaparral High School in Scottsdale, Ariz.
The Naismith Memorial Basketball Hall of Fame is the primary sponsor of the tournament. The Hoophall West Classic is a premier high school basketball event.
"It's an honor to be invited to play in a prestigious tournament," said first-year Chinle boys' head coach Brandon Tso. "There are elite teams competing. The guys are excited. The tournament field is tough."
The tournament is scheduled for today and Friday. The eight teams competing in the tournament are seeded and will play in a championship/consolation bracket.
No. 3 Phoenix Shadow Mountain takes on No. 6 Phoenix Desert Mountain at 3:30 p.m. No. 4 Phoenix Pinnacle faces No. 5 Gilbert at 5 p.m. No. 1 Tempe Corona del Sol meets No. 8 Chinle at 6:30 p.m. The final game of the first round has No. 2 Scottsdale Chaparral tangling with No. 7 Phoenix Westview at 8 p.m.
"Tempe Corona del Sol is a very tough and talented team," Tso said. "The tournament will give us game experience and it will prepare us for the rest of the season."
Tempe Corona del Sol features 6-foot-10 freshman forward/center Marvin Bagley, who is considered the top freshman in the U.S.
Also returning for Tempe Corona del Sol is 6-foot-7 senior forward Dane Kuiper, who has signed a national letter-of-intent with the New Mexico Lobos. Sophomore point guard Alex Barcello is expected to pick up where Casey Benson left off last year.