Gallup girls defeat Shiprock to start season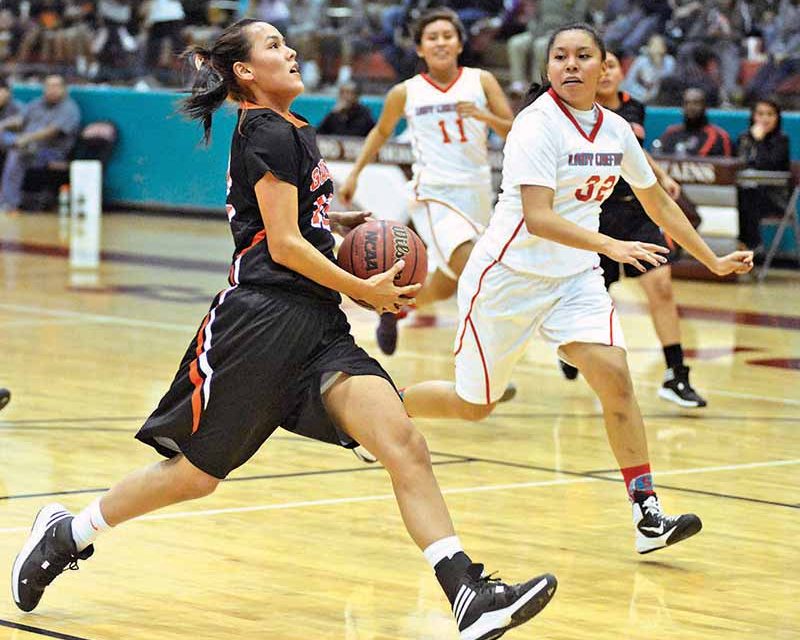 ABOVE: Gallup's Kristen Quigley (12) drives to the basket on a fast break against the Shiprock Lady Chieftains on Nov. 22.The Lady Bengals defeated Shiprock, 80-66. (Times photo – Paul Natonabah)
---
SHIPROCK
The Gallup Lady Bengals are ready to show that they are the team to beat in District 1-5A and in the area.
The Bengals got off to a winning start to their season on Nov. 22 when they defeated 2014 Class 3A state runner-up Shiprock, 80-66, in the season opener in Shiprock.
Gallup head coach Kamau Turner said it was not the cleanest win for an early season game but it showed just how strong his team is this season.
"We'll get better and we'll look cleaner, but as long as we win, I'm definitely happy," he said. "This is the team I feel can get into the state tournament and really not make it any fun for anyone else."
The match up with Shiprock started out fun as the two teams kept within a few points of each other.
As expected for the first game of the season, the first half was plagued with turnovers and missed shots on both ends of the court.
Gallup led Shiprock 22-20 by the end of the first quarter. At the end of the second quarter Gallup pulled ahead and finished the half with the 42-41 lead.
Shiprock jumped ahead in the second half of the game but hit a dry spell allowing Gallup to go on a 19-0 run to finish the third quarter ahead 65-50.
Shiprock outscored Gallup in the final quarter but it wasn't enough to get them the win.
Turner said his team allowed too many mistakes when they weren't playing their style of basketball.
He said the Shiprock fans that nearly packed the house might have contributed to the jitters his team had to overcome.
"It's a hard place to play," he said. "We're going to try to work on some of the stuff we didn't do correct and most of it was when we weren't aggressive we made mistakes. When we're aggressive that's when we're at our best."