Gallup Invitational: Farmington holds off Bengals for back-to-back titles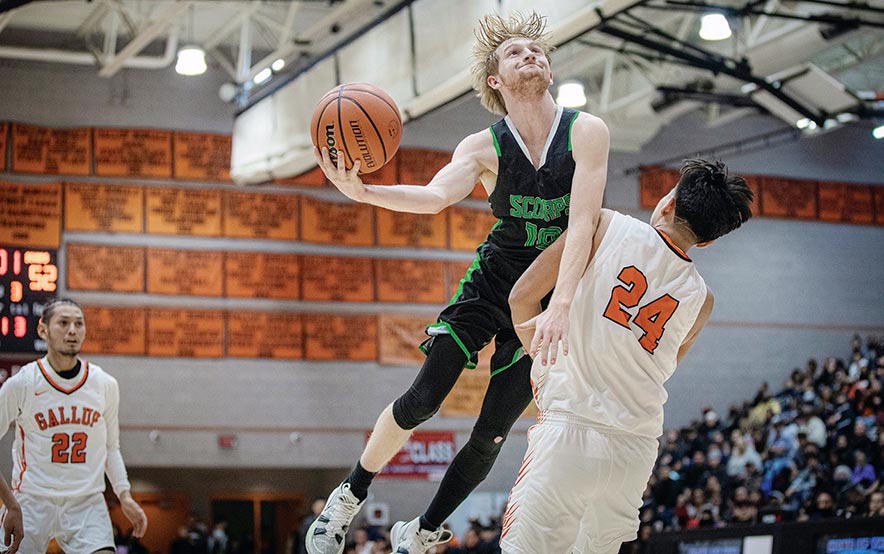 By Santiago Ramos Jr.
Special to the Times
GALLUP
Farmington watched its seemingly insurmountable 23-point fourth quarter lead practically vanish as tourney host Gallup stormed back with a stunning 19-2 run.
However, the Scorpions marched to the free throw line in the final 35 seconds and converted 4 of 6 free throws to hold off the Bengals 74-64 Saturday night in the championship finals of the 70th Annual Gallup Bengal Invitational.
For Farmington it was its second straight Gallup Invitational title.
Farmington head coach Larry Don Chitty said he saw flashes of a similar meltdown against the Bengals in the first round of state at the Pit six or seven years ago when he was an assistant coach.
"We were up 21 with six minutes to go in the fourth quarter," Chitty said. "And they came back and beat us. So when they (Gallup) cut it down I was thinking this was going to be the second time losing a 20-point lead in the fourth quarter to these guys. I have nightmares about it still. It started flashing back."
But Chitty said he was pleased that his team held off a huge Bengal comeback to claim its second Gallup title in a row.
"I thought maybe this was the most complete game even though at the end we started falling apart," he said. "I've come to this tournament for a lot of years and watched other teams. It's such a big deal to win it and for us to win this. It's a real honor for us."
Gallup head coach Joshua Dunlap said although he was proud of his players valiantly battling back in the final period, he added that he wished his team would play with the same intensity for all four quarters.
"I'm disappointed for our seniors," Dunlap said. "I really wanted them to walk out with the first place trophy. Farmington is a great team. I really have a lot of respect for coach Chitty. He's an awesome guy, awesome coach. He's really built that program.
"It's a little emotional. I just thought these seniors deserved it. They're really underdogs. We don't have the most talent we've ever had here but as you can see they never give up."
Time and time again, Farmington was able to beat Gallup with its quick transition game for easy uncontested baskets with its speed downcourt.
"We had 10 possessions that we had easy baskets," Chitty said. "That's the difference in the game. Any time we get an easy basket you want to take it."
Dunlap agreed that not getting back on transition hurt his team.
"I didn't think we did a good job getting back in transition," he said. "That really opened it up. We didn't locate shooters. We just have to play four quarters against a team like that. You can't play two and a half quarters against a team that will play four (quarters)."
The 10-5 Scorpions, which were missing one starter in sophomore forward Mikey Beck who was quarantining from COVID, quickly nursed a huge 23-point cushion, 68-45, after back-to-back scores by junior guard Lander Willie with less than four minutes left in the tourney finals.
Then the Bengals came alive.
Gallup (9-5) cranked up its intensity for the next three and a half minutes with an incredible 19-2 run. Bengal sophomore wing Kristian Touchine pumped in eight of his team-high 19 points in the final quarter while junior post Isaac Toehe made 5-of-6 free throws in the final period. Senior guard Nathaniel Yazzie buried a turnaround jumper pulling the Bengals to within striking distance at 70-64 with less than a minute left.
Dunlap, who returned two starters in Touchine and Yazzie, was frustrated that his players did not play with that same intensity for the first three and a half quarters.
"The big lesson is why can't we do that for four quarters," he said. "This coach is tired of jumping around and screaming. This coach just wants it to come from my own guys. I'm really challenging them to bring their own intensity and want it more than me."
But with time running out, Gallup was forced to foul sending Farmington to the free throw line where it sealed the championship trophy.
Scorpion junior point guard Cody Vassar-Steen, who poured in a game-high 29 points, sank 3 of 4 free throws in two trips to the line while junior guard Caden Granger made 1 of 2.
Bengal senior guard Isaiah Tom, who is usually the team's leading scorer but was held to just one free throw, launched a pair of long range shots that missed its mark as Farmington pulled away to a 74-64 triumph.
The Bengals struggled mightily in the first half with 13 turnovers while the Scorps were able to take care of the ball with just six turnovers. For the game, Gallup improved in the second half taking care of the basketball before finishing with 21 turnovers to 14 for the visiting Scorpions.
Chitty credited his team's defense for going unbeaten through the tournament with wins over Sandia Prep 58-54 in overtime in the first round and over Miyamura 70-52 in the semis.
"I thought our defense was really solid," said Chitty who returned starters Trel Griego and Vassar-Steen. "I thought they (Gallup) struggled to get anything. When we made them play halfcourt offense I thought our defense was just so solid. We pushed the ball on offense."
Gallup ended up getting the advantage at the free throw line, sinking 17 of 28 free throws with Farmington 11 for 20 but 4 of 6 came in the final 35 seconds that secured the coveted tournament title.
The Bengals had four players in double digits with Touchine with 19, Yazzie 12, Toehe 11 and Brett Baker 10.
Farmington forward Griego was the tourney MVP with teammates Vassar-Steen and Caden Granger named to the all-tourney. Gallup had Touchine and Tom on the all-tourney team.
Farmington coach Chitty said that he loves competing in the Gallup Invite.
"We love coming to this tournament," he said. "This is one of the best tournaments in the state. We were fortunate to win it last year and to come back this year. We knew Gallup was coming for us this year. It just feels good because we struggled a little early in the season and haven't played like we wanted. I told the boys this is what a state tournament game feels like. "I'm glad we experienced this," he added. "Tonight was a great test for that because it's physical like that when they're pushing the ball at you. I don't think we could have played anybody that would have prepared us better for that than Gallup. They're playing so well. And the crowd and the energy and the stress."
Dunlap said he loved the huge crowds for all three days.
"You see how much love and effort we put into this tournament and how many people are involved," he said. "I feel this is a special tournament. I hope every official, every team, everybody in the hospitality room feels special because we put a lot of effort into this tournament. I think this is the first time in 3 or 4 years we've had big crowds for three straight nights. So it's my commitment to take a piece of that and start getting these out-of-town teams again."
Dunlap said he was disappointed that Window Rock and Page dropped out of this year's tournament after signing contracts.
"They canceled on us at the last minute which is very upsetting to me when you sign a contract," he said. "I was very disappointed. We went to the Page tournament and they still canceled on us. I would love to get a Tuba City to be out here. I would love to get Alchesay out here. But I tried to get Winslow, tried to get everybody you can think of.
"We're grateful Rehoboth and Hatch Valley came. So anybody reading this, send them to me, he added. "We'll pay for the hotel and let them experience the Gallup Invite. We hope to make this bigger and better every year."
Farmington will open up district play next Tuesday at Sandia.
Gallup will travel to Albuquerque Academy Saturday for a crucial Class 4A showdown.
---