'What happens on the court, stays on the court'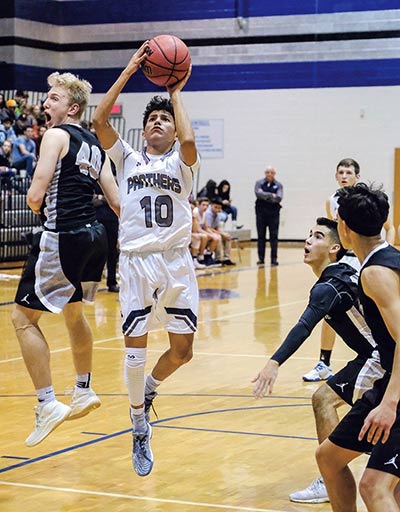 Brothers compete in practice, collaborate during games
FARMINGTON
On any given day, Shanden Todacheeny and Terrell Todacheeny are the epitome of brotherly love. Until they set foot on the basketball court, that is.
The Piedra Vista High School seniors have a bond that some brothers share at a young age, but like most teenagers, they also like to compete. A basketball is their weapon of choice and the court is their battlefield.
Piedra Vista head coach Devon Manning said it has become apparent that basketball brings a sense of competition out of his two varsity players.
"Most of the time they're competing against each other; one way or another there's no brotherly love when they go head-to-head with each other," Manning said. "Basketball brings that out of everyone."
The two have learned to transfer their competitive nature toward their team opponents. Often working interchangeably, they have become valuable assets for the Panthers.
Shanden and Terrell started playing basketball when they were about five years old. They started off in an Upward Bound basketball league and eventually worked their way up.
Shanden, 18, the older of the two by about a year, said basketball became a family affair so they dove right in.
"It's motivation from my family and watching my older brother play. I just wanted to keep playing," Shanden said. "It's a stress reliever for sure, because I got to focus on school too. It just helps me concentrate more."
Terrell, 17, found a liking for basketball because it allowed him to be competitive.
He said when they played in children's leagues he and his brother often had an advantage because they knew each other so well.
Coaches often put them on opposing teams, which helped lay the foundation of brotherly competition for the two.
"During practice they would put me and my brother apart," Terrell said. "Because if we're together, it would be easy for us."
---