Hitting their stride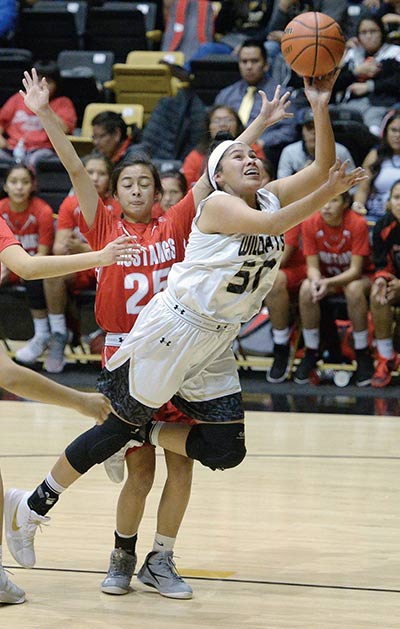 After rocky start, Chinle girls climb to No. 7 in AIA poll
CHINLE
Like most teams, the season-ending push has reached a crescendo for the Chinle girls' basketball team.
After starting the season with a 4-9 record, the Lady Wildcats have won eight of 11 games since the start of the new year.
First-year Chinle coach Francine McCurtain said her team was still adapting to her style of play as the Lady Wildcats came up short by six points or less in eight of those earlier contests.
"We're coming back a lot stronger than what we showed at the beginning of the season," McCurtain said. "The first half of the season we were still getting to know each other. We came up short in some of those games and it was all about finishing."
Contrary to what they did earlier in the season, McCurtain said her team is doing a good job of finishing out each game. Two of their losses since the new year have come against top-ranked Ganado, which included a 40-36 setback on Jan. 23.
"It shows that we're contenders," McCurtain said. "We can battle it out with any team."
McCurtain said her team has come a long way in the few months she has worked with them. She is really proud of the way they accepted her philosophy.
"It's finally coming together for them," she said. "They have been listening to me and they are buying into my system. They are starting to believe and there's no stopping that."
The Wildcats picked up a pair of wins at home over the weekend. Last Friday they defeated Monument Valley 58-45 and they outscored No. 4-ranked Holbrook in every quarter for a 64-51 win as they moved up to No. 7 in the latest Arizona Interscholastic Association poll.
---