'I hope they will be inspired': Diné junior racks up 1,000 points for Valley Lutheran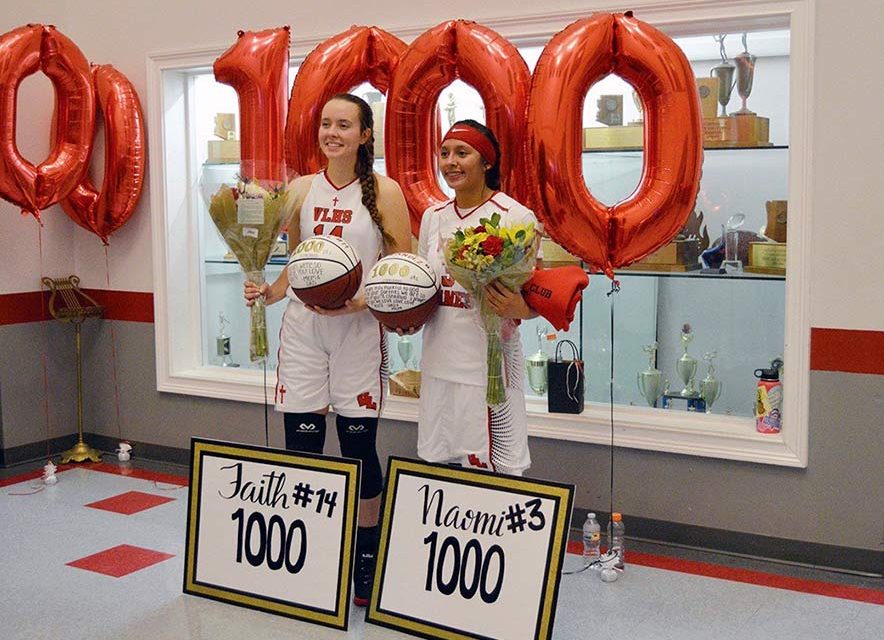 By Candace Begody
Special to the Times
PHOENIX
In a seamless fashion, Valley Lutheran's Naomi Hernandez opened Tuesday night's game against Northland Preparatory with a two-point layup. Another few seconds later, she made a steal and then converted for another two points.
With 2:23 left in the first quarter, Valley Lutheran having taken the lead 16-2, Hernandez drove the ball into the paint and scored another two points. The crowd rose to their feet – her parents, grandparents, uncle and other family among them – to honor the junior guard for having scored 1,000 points in her varsity career to date. The team took a 30-second timeout to honor Hernandez as the crowd stood in ovation, one person holding a sign that read "Naomi #3 1000."
Hernandez, who has family roots in the Chinle, Arizona, area, was one of two Valley Lutheran players – the other being senior Faith Measel – honored on Tuesday night during a 2A matchup against Northland Preparatory. Valley Lutheran took the win, 58-9.
"We started honoring our players for meeting the 1,000-point mark about 20 years ago," said head coach Ed Measel, adding that the school is about 30 years old. "It is a way to recognize the players for the hard work they have put in. Really it is a tribute to the kids that have worked so hard in their four years. This is not something that you can do in one or two years."
It has taken many players in the past four years to reach this milestone, Hernandez being the exception.
"Naomi is actually the first junior to meet the 1,000 points," Measel said. "That is how great she has been for us."
In the lobby area of the basketball gymnasium, a total of nine names are displayed to honor the boys and girls who have met the 1,000-point milestone in the school's history. The school's leading scorers of all time for the girls and boys are just over 1,200 points and 1,397, respectively.
"We expect Naomi to become the all-time highest scorer for the girls soon," Measel said. "The top scorer for the school belongs to the guys, but pretty soon it will be Naomi. Sometime next year, we will be recognizing her for the all-time leading scorer in Valley history."
Of becoming the highest scorer at Valley Lutheran Naomi said, "I feel like I can get to fifteen- or even sixteen-hundred by the end of my senior year. At our school, they put your name on a plaque and when people see a girl's name, I hope they will be inspired."
Hernandez, whose mother is from Salina Springs, Arizona and a graduate of Chinle High, started playing at Lutheran in the latter half of her freshman year.
"It is a big accomplishment," said her mother, Titania Hernandez. "She has worked so hard since she was a freshman. She said she would score 1,000 by her junior year and she did."
Naomi's father said it is even sweeter because she has had less time to reach the milestone.
"It means a lot to us because not a lot of girls have achieved this," said Juan Hernandez adding that Naomi started the season with about 650 points. "It really is unheard of especially because she started on the JV team her freshman year and then moved up the second half of her freshman year."
This season, Naomi is averaging between 20 and 25 points a game. The most she's ever scored in a game was 36 points.
Not only is Naomi a leading scorer, but she is also No. 4 in the state for steals averaging 6.5 steals a game, according to AZPrep365's latest statewide rankings.
"She is the most athletic girl we have seen in our section," Measel said. "She anticipates so well. Our big girls know that that when they pull down that rebound, Naomi will already be at half court. She knows how to get a layup when we need one, when we need a three, that's who we look to.
"It's an unfortunate reference right now, but I have always said she was like our Kobe Bryant," he added. "As the Lakers looked to him, we look to Naomi. When we need a big bucket, she has delivered and she has delivered many, many times. Whether it's against 2A or 4A schools, she's put up big points for us."
Of being able to anticipate plays, Naomi said, "I watch how they move, I watch their hips, how they're passing the ball, I watch their emotions, and I already get a head start before they even pass it."
Valley Lutheran is currently sitting No. 5 in 2A in the state. With state around the corner, Measel said they will be look to their thousand-point scorers.
"With our two thousand-point scorers leading us, we have a legitimate chance this year," Measel added. "I keep telling Naomi that if we get to the championship game, she is going to shine. Like Kobe, she likes the pressure."
Added Naomi, "For me, it is a great accomplishment being the first junior to do this. I am setting an example for other people. I also want to thank my family. They are always at my games. I love having them there. I also want to thank God, my teammates, my coach, the fans and my friends for supporting and caring for me."
Hernandez is also on the National Honor Society and hopes to become a veterinarian.
---