Lady Bengals squares off against Valencia on Tuesday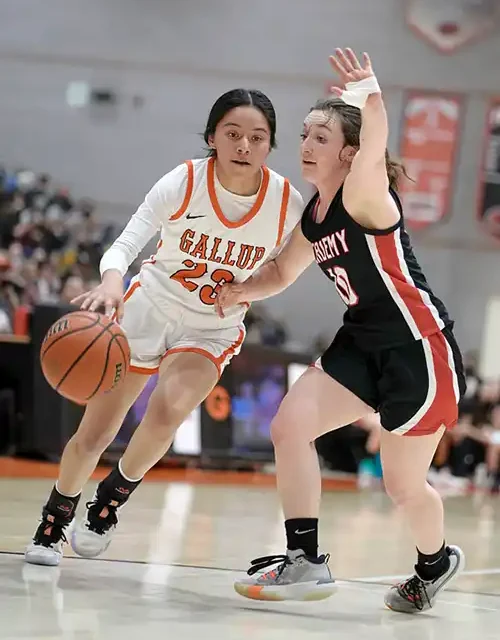 GALLUP
The Lady Bengals is heading to the Pit.
Friday's matchup against the Albuquerque Academy Lady Chargers in the Class 4A playoff game favored Gallup as it easily cruised to a 60-34 win.
The Lady Bengals could have ended the first quarter with a higher point total, but the playoff jitters seemed to have kept it from capitalizing on the steals it made and some missed baskets inside.
"I think we're a little excited to start the game," said Bengals head coach Todd McBroom.
The Bengals pressured the Lady Chargers all night and forced them to give the ball away, thanks to Lady Bengal Rylie Whitehair, who kept Albuquerque Academy in check inside the paint. On the offensive end, Whitehair tallied 6 points in the first quarter, while Delia Tello and Kayden Tsosie chipped in, giving Gallup a 12-7 lead.
The playoff jitters seemed to have worn off by the start of the second quarter as the starting bench put up 21 points for a 33-14 halftime lead.
The game's momentum didn't change much as Gallup continued pressuring the Lady Chargers for steals as those extra opportunities led to points. Gallup's Raven Tso led that attack with a pair of 3-pointers.
Gallup stayed the course and outscored Academy 14 to 11, scoring 60-34.
Whitehorse led Gallup with 18 points, and Tello added 15.
McBroom complimented his team and said the victory was a complete team effort.
"We have different kids in double digits just about every game, so it's just a team effort," McBroom said.
Gallup advances and plays the Valencia Lady Jaguars on Tuesday at 3 p.m. at the Pit. Gallup played the Lady Jaguars earlier in the season with a 50-35 win.
McBroom said Valencia had improved, so he's anticipating a much closer game.
"We're gonna have to prepare," he said.
---