Rock Point Lady Cougars continues winning streak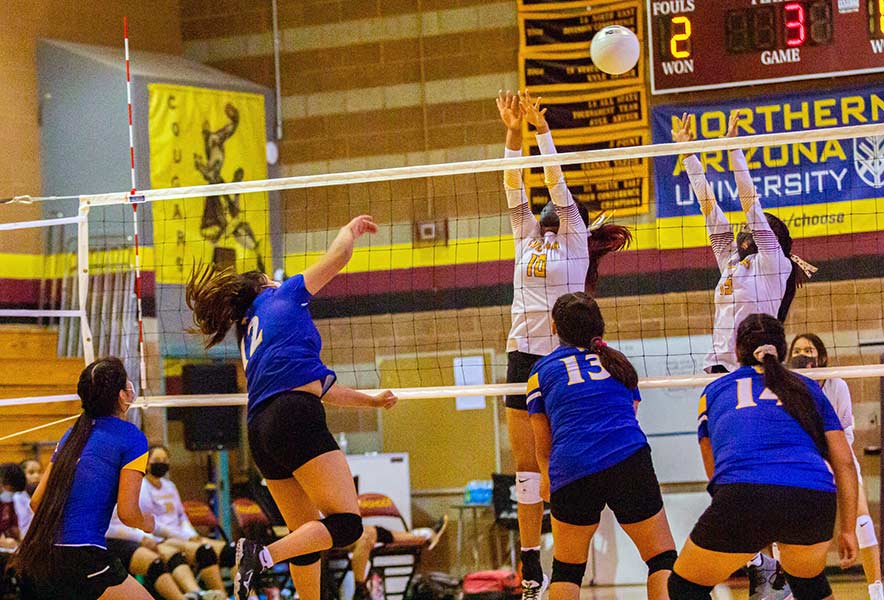 ROCK POINT, Ariz.
The Rock Point Lady Cougars on Saturday afternoon faced off against the Valley Lady Pirates at the Rock Point gymnasium.
The Lady Cougars won three sets against the Valley Lady Pirates, earning the Lady Cougars their fifth win of the season and the Lady Pirates' sixth loss of the season. The first set the Lady Cougars started off strong with a score of 25-14. The Lady Cougars maintained the momentum during the second set with a score of 25-12. The last set of the game the Lady Cougars score was 25-10 against the Valley Lady Pirates.
During the first set, the Lady Cougars overwhelmed the Lady Pirates with a series of scores from serves. The second set the Lady Pirates began to change their defensive plans but were not able to block spikes from the Lady Cougars. In the third set, the Lady Cougars stayed tight and swept the Lady Pirates.
The Lady Cougars finished with 27 kills and 3 blocks, which came from Arianne Begay. The Lady Cougars also had 12 aces with six coming from Tamira John.
Offensively, Tamira John had six aces and nine kills, and Arianne Begay had two aces, and seven kills.
Rock Point Coach Kyle Arthur was pleased with the results and happy to see how his players are performing.
"They know they can battle against 3A teams," Arthur said. "It's a matter of building up confidence. They are showing that.
"Every game, every practice, they are putting in the work. It's good to watch them.
"We have been trying to capitalize on the free balls that we were given," Arthur contined. "We have played them (Valley Pirates) before. So, we expected what they were going to be doing as far as their playing style."
Arthur said as the season continues, he'd like his players to enjoy the sport every day of their lives.
"Everytime they come onto the court, everytime they come to practice, they come to the game," he said. "I want them to enjoy it. The goal right now is to win a state champion. These girls are hungry and they understand what it takes to play at that level."
---