Ms. Big Red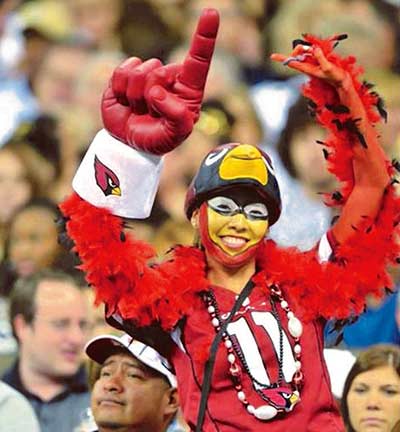 Diné mom becomes 'Ultimate Arizona Cardinal Fan'
By Jan-Mikael Patterson
Special to the Times
WINDOW ROCK
From Monday through Saturday Danielle Lewis is a wife, a mother and a blackjack dealer at Talking Stick Casino.
On Sundays during the NFL Season, she is "Ms. Big Red" and she has the license plate to prove it.
"I got an Arizona Cardinals license plate that says, 'MSBGRD,'" she said in a recent telephone interview.
Lewis is arguably the "Ultimate Arizona Cardinal Fan" showing up at home games with her face painted up like a Cardinal, wearing her red Larry Fitzgerald #11 Jersey, her favorite member of the team, red and white striped socks, customized Nike red and white shoes, topped off with her Cardinal Foam Hat and armed with her "No. 1" pointed foam finger.
And she was never a fan of football. In fact she hated football.
Her son's biological father played high school football and she didn't care much for the sport because of him. It was a guy's sport and he was just one of the guys, who played in Pop Warner and on the Xbox game console.
Her husband, whom when she dated was a fan of all Arizona professional sports teams, didn't help at the time either with loving the sport when he watched a game.
Despite "hating" the sport she wanted to take her husband to a home game for his birthday.
"His birthday is around the time to kick off the (NFL) football season," she said. "I got him tickets to the Indianapolis Colts Game on September 27, 2009. I remember that game because we were at the 50-yard line, Row 8 on the Cardinals side."
For the game she bought her first Cardinals jersey, which was a Larry Fitzgerald # 11 jersey because he was the only player she knew at that time. Her favorite player is Calais Campbell, defensive end.