Scouts shed negativity, focus on future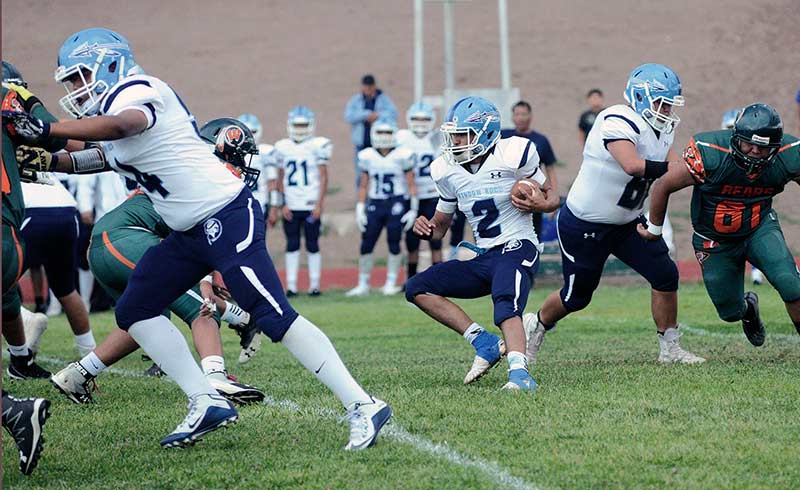 WINDOW ROCK
Losing 10 straight games can take a toll on a football team.
The Window Rock Scouts were all smiles after they ended their losing skid with a 40-8 victory over Wingate last Friday night.
"This was big for our program and our fans that never stop supporting us," Window Rock coach Wilbur Begay Jr. said. "It's a big deal to finally get that monkey off our back because we do not need that kind of pressure.
"Now we can just focus on our upcoming season and just have some fun playing football," he said. "A lot of negativity from last season is our fuel this season."
Begay said they found some balance on the offensive end against Wingate, something he wants to continue for the rest of the season.
"We did have some drives that stalled because we got a bit greedy with the pass," he said. "We will fix that in the coming weeks."
The second-year coach said they ran the ball real well and he attributes that to offensive linemen, the men in the trenches.
"It all starts our center, Jacob Tso," Begay said. "Jacob is the one that calls the play and makes sure every lineman does their job. Jacob is a great asset to our team."
In their opening drive, Begay said they went about 75 yards with their running game accumulating most of those yards. That drive ended with a TD pass from Tyrell Boyd to Demetrius Begay.
"That set the tone for the game," Begay said, who added that it was an awesome feeling to score on their first drive of the night, something that rarely happened last season.
"It all goes back to the offseason," he said. "I am so proud of our boys. They have grown a lot since last season."
---