'It makes us bigger'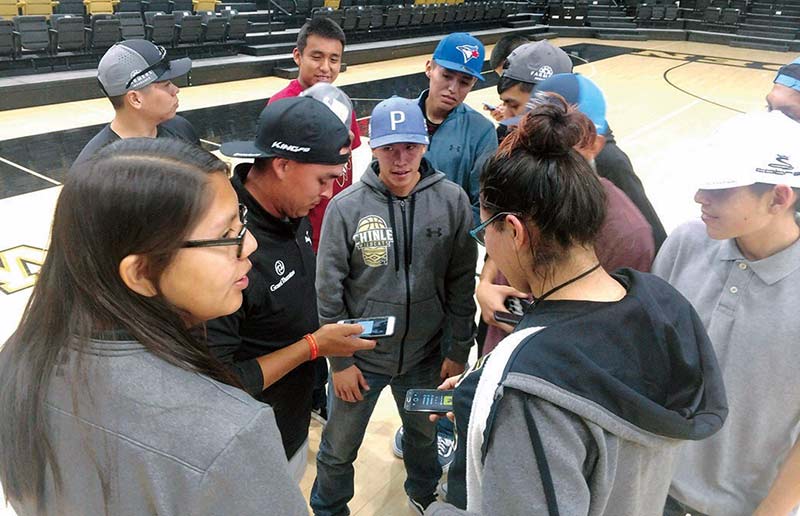 Pro golfer starts 'give back' campaign with hush-hush visit to Chinle
CHINLE
Many people have walked through the door of Josiah Tsosie's home – but never a professional athlete.
Last Tuesday, knocking at the door of his family's doublewide mobile home near Chinle was Navajo professional golfer Rickie Fowler.
"That's a once-in-a-lifetime thing, to have a professional athlete come to my house," the 18-year-old Chinle High School senior said. "I was shocked when they said he wanted to meet me and come to my house. I was very surprised. It was an honor to have Rickie at my house."
Fowler, accompanied by Navajo/Pueblo golfer Notah Begay III and Fowler's girlfriend, track and field athlete and fitness model Allison Stokke, visited Chinle last Tuesday to film part of his new docuseries on rez ball and to visit the stars of the series: the Chinle High boys' basketball team.
Fowler, who started his own media company, Main Event Productions, partnered with The Workshop out of Pennsylvania to showcase the basketball team and social issues on the reservation.
In an exclusive interview with the Navajo Times, Fowler, who is currently ranked No. 7 in the world, said he's waited a long time to share one of the many stories of his Navajo people.
"Sharing the story of how the kids are raised and where they live and go to school, and what basketball has kind of done for them," Fowler said. "It's something that I've wanted to be a part of, having the Navajo tie-in somehow, where we were able to visit the reservation, and right before regionals, it was perfect."
---