Lots of competition for this year's all-stars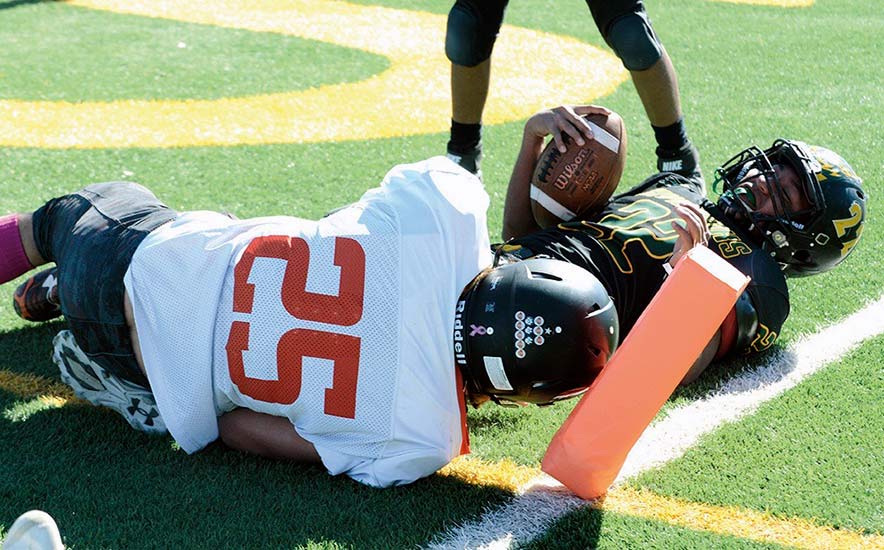 WINDOW ROCK
Selecting the 2019 Navajo Times Fall Sports All-Stars was no easy task.
Every nomination that was turned in was worthy of consideration. Of course, the Navajo Times sports department had to whittle that list considerably.
And while that phase was excruciating, the Times is proud to announce this year's all-stars for boys' and girls' cross-country, boys' and girls' soccer, football and volleyball.
We will recognize these individuals at our awards ceremony, which is scheduled for Monday, Dec. 9 at the Phil Thomas Performing Arts Center at Shiprock High School.
The doors will open at 9 a.m. for this free event and we will start the ceremony with a photo session for every sport. The selected all-stars are encouraged to bring their uniform tops.
The tentative schedule for Monday's photo sessions is as follows: boys' cross-country (9:45 a.m.), volleyball (10:10 a.m.), football (10:35 a.m.), girls' cross-country (11:20 a.m.) and boys' and girls' soccer (11:45 p.m.)
Due to time constraints we will try to expedite the photo sessions so the schedule for Monday's event will be updated at the all-star ceremony.
The list of all stars for the corresponding sports are as follows:
Lane Apachito, Alamo Navajo
Robert Baca, Alamo Navajo
Cedrick Tessay, Alchesay
Jacob Benedict, Bloomfield
Ashriel Pouncy, Chinle
Tristan James, Chinle
Kordell McMillian, Crownpoint
Tylon Tsosie, Crownpoint
Antawn Antonio, Cuba
Rossendo Julian, Dulce
Lance Harris, Flagstaff
Riley Begay, Gallup
Micah Silvers, Ganado
Cauy Curley, Ganado
Adriano Clark, Greyhills Academy
Korneillisien Begay, Greyhills Academy
Justin James, Higley
Wayland Namingha, Hopi
Tyrall Roland, Hopi
Milson Tessay, Hopi
Shaunanthony Pashano, Hopi
Satchel Hogue, Kirtland Central
Colton Salvador, Laguna-Acoma
Terrance Villegas, Laguna-Acoma
Kevin Martin, Laguna-Acoma
Abren Atsye, Laguna-Acoma
Quintyler Yazzie, Many Farms
Tayan Benson, Miyamura
Riley Watson, Miyamura
George Piestewa, Miyamura
William Wayne, Monument Valley
Cayden Smith, Monument Valley
Ian Salt, Monument Valley
Henry Wilson, Monument Valley, Utah
David Newton, NACA
Galvin Curley, Navajo Pine
Michael Marshall, Navajo Pine
Ryan Kee, Navajo Pine
Dominique Clichee, Navajo Pine
Micah Tsosie, Navajo Pine
Devin Roper, Navajo Prep
Jesse McCray, Navajo Prep
Damien Johnson, Newcomb
Trent Holiday, Page
Rex Martin, Page
Skylar Sandoval, Page
Quentin Davis, Page
Colton Yazzie, Page
Triston Charles, Piedra Vista
Ethan Lacey, Piedra Vista
Makua Harvey, Piedra Vista
Daniel Biakeddy, Pinon
Anton Woody, Red Mesa
Joseph Harker, Rehoboth
Pete Garcia, Rehoboth
Christopher Humetewa, Santa Fe Indian
Isaiah Velasquez, Santa Fe Indian
Isaiah Dasheno, Santa Fe Indian
Demitrrius Young, Shiprock
O'Rye Franklin, Shiprock
Delaine Loley, Shiprock Northwest
Trey Holgate, St. Michael
Melvin Scott, Tohatchi
Titus Norton, Tohatchi
Demetrius Daw, Tuba City
Sean Yazzie, Valley
Weston Many Manygoats, Whitehorse
Xavier Martin, Whitehorse
Burlander Kee, Window Rock
Kyren McCray, Wingate
Nolan Begaye, Winslow
Noral Cooper, Winslow
Deshawn Goodwin, Zuni
Jerek Chimoni-Zunie, Zuni
Kameron Eustace, Zuni
Jacy Edaakie, Zuni
Dominic Yuselew, Zuni
Kennette Eriacho, Alamo Navajo
Naomi Rustin, Alchesay
Laural Cosay, Alchesay
Sierra Villanova, Aztec
Autumn Nelson, Baboquivari
Temyra Bia, Chinle
Mariah Bahe, Chinle
Nevaeh Scott, Chinle
Tyra Tsosie, Crownpoint
Janaya Tom, Crownpoint
Kaleigh Shorty, Crownpoint
Kaelynn Ashley, Coconino
Kailey Julian, Dulce
Jasmine Turtle-Morales, Eldorado
Kamalani Anitielu, Farmington
Kapiolani Anitielu, Farmington
Breana Biggambler, Flagstaff
Kenia McCabe, Fort Thomas
Celine Nez, Gallup
Jayla McIntosh, Ganado
Whitney James, Ganado
Skylar Charlie, Grants
Abigayle Nez, Holbrook
Taylor Antone, Hopi
Aisha Ramone, Kirtland Central
Autumn Harrison, Kirtland Central
Michaela Hawkins, Kirtland Central
Sidney Cheromiah, Laguna-Acoma
Aubree Francis, Laguna-Acoma
Latifah Curley, Many Farms
Destiny Deswood, Many Farms
Lorianna Piestewa, Miyamura
Tasheena Thompson, Miyamura
Kaleia Vicenti, Miyamura
Deleanna Yellowman, Monument Valley
MiKayla Holiday, Monument Valley, Utah
Lillianna Fatt, Monument Valley, Utah
Jamika Nelson, Monument Valley, Utah
Raine Edaakie, NACA
Brandy Ray, Navajo Prep
Ryeshiandall Jim, Newcomb
Lashawnda Yazzie, Page
Shayla Rogers, Piedra Vista
Kairi Etsitty, Pine Hill
Deanna Teller, Pinon
Emily Garcia, Rehoboth
Nina Bitsilly, Rehoboth
Taitlyn Woody, Rock Point
Chloe Wiley, San Carlos
Kendra Emery, Santa Fe Indian
Destiny Marquez, Santa Fe Indian
Kaydence Platero, Shiprock
Elena Hardy, Shiprock
Alyssa Lee, Shiprock Northwest
Ali Upshaw, St. Michael
Amber Woody, St. Michael
Chiara Holgate, St. Michael
Nizhoniibaa Phillips, St. Michael
Ashley Phillips, St. Michael
Shanell Edsitty, Thoreau
Suzanne Pablo, To'Hajiilee
Brooke Badonie, Tohatchi
Shaelyn Honahni, Tuba City
Nizhoni James, Valley
Jenell Lewis, Valley
Heidi Thomas, Whitehorse
Kianna Willie, Whitehorse
Jewels Leslie, Wingate
Octivia Long, Wingate
Quannah Benallie, Window Rock
Yanabah Talbott, Winslow
Alexandria Bewanika, Zuni
Kate Romancito, Zuni
Kristyn Eriacho, Zuni
Kashaundrick Big, Alamo Navajo
Duran Cheney, Alamo Navajo
Davin Parker, Alchesay
Noah Walker, Alchesay
Kendrick Clitso, Alchesay
Jeremiah Kessay, Alchesay
Elisha Walker, Alchesay
Brodie Utley, Bloomfield
Kenyon Mosley, Bloomfield
Bryce Perez, Bloomfield
James Bahe, Chinle
Darren Woody, Chinle
Shia Brown, Chinle
Traivian Denetso, Cienga
Jesse Andis, Crownpoint
Corey Bell, Crownpoint
Kristian Hale, Crownpoint
Quincy Benally, Crownpoint
Jayden Largo, Crownpoint
Jeremy Segura, Cuba
Fernando Herrera, Cuba
Joseph Jacquez, Cuba
Todd Stringfellow, Fort Thomas
Zack Walker, Fort Thomas
Christian Titla, Fort Thomas
Jeremiah Bullis, Fort Thomas
Terrold Robertson, Fort Thomas
Johnny Blue Eyes, Gallup
Kent Touchine, Gallup
Alex Alatorre, Gallup
Tony Shirley, Ganado
Elton Kirk, Ganado
Rance Tso, Ganado
Will Bia, Ganado
Marquis West, Ganado
Nitrell Begay, Ganado
Jeremy Lomavaya, Hopi
Khai Elliott, Hopi
Jaden Stone, Hopi
Ian Thomas, Kirtland Central
Cjay James, Kirtland Central
Ty Jenks, Kirtland Central
Brock Dowdy, Kirtland Central
Bailey Foutz, Kirtland Central
Garrin Nez, Many Farms
Araya Yazzie, Many Farms
Jonathan Monroe, Many Farms
Teankum Gilmore, Monument Valley
Andrew Sheppard, Monument Valley
Simeon Thinn, Monument Valley
Alphonso Mike Jr., Monument Valley
Justin Graymountain, Monument Valley
Ian Catron, Navajo Pine
Dempsey Lincoln, Navajo Pine
Lathan Wartz, Navajo Pine
Keshawn Nez, Navajo Pine
Dontrell Denetso, Navajo Prep
Kyler Clitso, Navajo Prep
Skylar Tortalita, Navajo Prep
Adriano Begay, Navajo Prep
Lance Morris, Navajo Prep
Deondre Begay, Newcomb
Deontay Begay, Newcomb
Tyrone Wheeler, Newcomb
Leandreth Begay, Newcomb
Colby Benally, Newcomb
Gabe Gomez, Page
Robert Smith, Page
Conner Begay, Page
Hunter Richardson, Page
Nik Yazzie, Page
Bradley Benally, Red Mesa
Tyrek Curley, Red Mesa
Karl Bigman, Red Mesa
Quentin Friday, Red Mesa
Kyle Descheney, Red Mesa
Kaleo Clah, Shiprock
Morgan Nez, Shiprock
Tye Harrison, Shiprock
Jayson Ayze, Shiprock
Larris Castro, Shiprock Northwest
Bryson Begay, Shiprock Northwest
Brandon Shirley, Skyline
Brandon Chee, Tohatchi
Rayshawn Whitney, Tohatchi
DeAngelo Hunch, Tohatchi
Ezra Benally, Tohatchi
Blaine Long, Tohatchi
Logan Bizaholoni, Tuba City
Seth Brown, Tuba City
Jalen Badonie, Tuba City
Marquette Thompson, Valley
Elijah Tatro, Valley
Tyrus Charley, Volcano Vista
Jason Yazzie, Window Rock
Naataah Chief, Window Rock
Aaron Begaye, Window Rock
Caleb Dickson, Window Rock
Adrian Destea, Window Rock
Mason Scott, Winslow
Leeander Keams, Winslow
Robert Wilbanks, Winslow
Britt Alcott, Winslow
Braden Williams, Winslow
Coursha Herrera, Alamo Navajo
Nadia Apachito, Alamo Navajo
Jaylynn Nakai, Aztec
Hailey Payne, Bloomfield
Katie Waresback, Bloomfield
Tea Murray, Chinle
Dyanni Choyou, Crownpoint
Brianna Billie, Crownpoint
Talaya Jake, Crownpoint
Caitlin Duncan, Dulce
Jasmine Salazar, Dulce
Tionne Lovato, Dulce
Gracelyn Nez, Flagstaff
Paetyn Nakai, Flagstaff
Devynn Hatathlie, Flagstaff
Hailey Long, Gallup
Jordan Joe, Gallup
Michelene Coleman, Ganado
Mya Dalgai, Ganado
Naomi Goldtooth, Greyhills Academy
Kristin Dasher, Greyhills Academy
Madison Chappell, Holbrook
Kaila Nez, Hopi
Phoenix Morales, Ironwood
Gabrianna White-David, Kirtland Central
Tatelyn Manheimer, Kirtland Central
Jacqualine Day, Laguna-Acoma
Alicia Grey, Many Farms
Camille Secatero, Monument Valley
Kaylee Yazzie, Monument Valley
Adrianna Sheppard, Monument Valley
Jordan Louis, Navajo Pine
Laila Charley, Navajo Prep
Hailey Martin, Navajo Prep
Tayeshaun Largo, Navajo Prep
Jeffleena Yazzie, Newcomb
Jordan Peshlakai, Newcomb
Emma Yazzie, Page
Francine Keyonnie, Page
Torrance Begay, Page
Zhanna Edwards, Page
Bailey Rassumun, Piedra Vista
Maurie Daniels, Pine Hill
Cheyenne Harrison, Pine Hill
Jiovanni Pino, Pine Hill
Stephanie Kelsey, Pine Hill
Emerald Ben, Piñon
Shondiin Jim, Piñon
Jada Begay, Red Mesa
Courtney Gray, Red Mesa
Patricia Chavira, Rehoboth
Jessica Triplett, Rehoboth
Raynique Francisco, Rehoboth
Tierra John, Rock Point
Tamira John, Rock Point
Shelby Chee, Rock Point
Evette Lansing, Shiprock
Jessica Terry, St. Michael
Kayden Williams, St. Michael
Kalynn Smith, St. Michael
Jalena Begay, Thoreau
Adela Sena, Thoreau
Erin Bitsoi, Tohatchi
Cameron Tsosie, Tohatchi
Lakoda Jim, Tsé Yi' Gai
Gracie Henderson, Tuba City
Jayda Chee, Tuba City
Melia Barlow, Tuba City
Mikeya Sheppard, Tuba City
Jadan Sixkiller, Tuba City
August Tallman, Valley
Savanna Lee, Valley
Jana Solee, Window Rock
Shawntai Allen, Window Rock
Sieyanne Platero, Wingate
HyLynn Moore, Wingate
Andrea Willeto, Winslow
Kaori Robertson, Xavier Prep
Francisco Villegas, Aztec
Kolton Bruhn, Aztec
Edward Campos, Aztec
Cesar Ramirez, Bloomfield
Orrin Chapman, Bloomfield
Shrewd Martinez, Farmington
Seth Silversmith, Farmington
Omar Tuqan, Gallup
Rufus Keebahe, Grand Canyon
Andres Aguilera, Holbrook
Anesio Villegas, Kirtland Central
Jaxon Manning, Kirtland Central
Kyler Joe, Kirtland Central
Colten Wagner, Kirtland Central
Alfonso Murillo, Miyamura
Bryce Balok, Miyamura
Javon Jake, Page
Stu Sandall, Page
Jose Gutierrez, Page
Evan Cambridge, Page
Nick Louis, Rehoboth
Liam Bia, Rehoboth
Talon West, Rehoboth
Horizon Gillson, Rehoboth
Aspen Newland, Aztec
Autumn Roundy, Aztec
Daniella Sanders, Aztec
Elden James, Aztec
Sydney Dugger, Bloomfield
Mariana Vega, Gallup
Savannah Watson, Gallup
Jordan Hanley, Gallup
Evila Gonzales, Gallup
Abby Warner, Kirtland Central
Jayden Guillory, Kirtland Central
Justice Manuelito, Miyamura
Emma Mohs, Navajo Prep
Amber Garcia, Navajo Prep
Kylie Gilbert, Navajo Prep
Spingsky Chee, Navajo Prep
Monique Parrish, Page
Tyanna Kelly, Page
Tyra Kelly, Page
Cammie Robinson, Page
Bethany Silva, Rehoboth
Shandiin Tahy, Rehoboth
Gwen Rivas, Rehoboth
Sunni Rose Yazzie, Rehoboth
---