Charley hangs up hat with bull riding school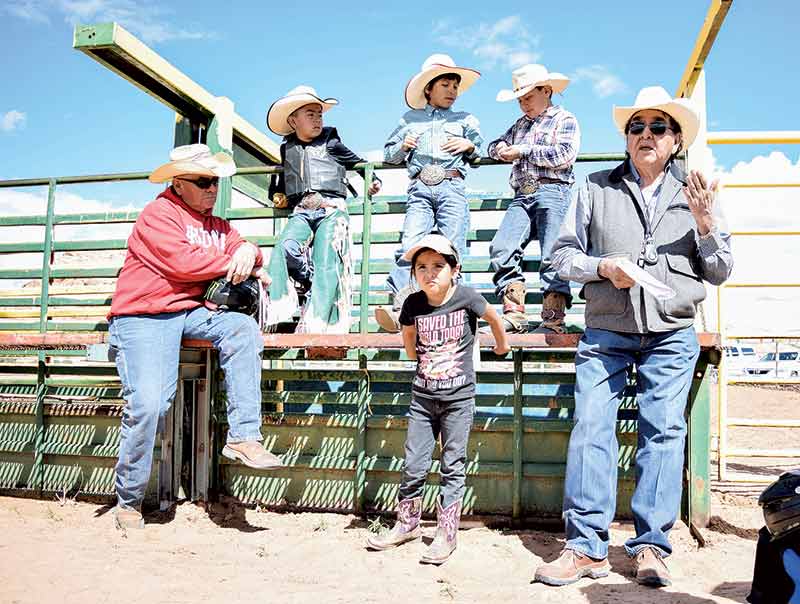 KAYENTA
It was a beautiful day to bull ride on Saturday at the Teeh In Deeh Arena, 2.5 miles west of Kayenta, just off of U.S. Highway 160.
"What a beautiful day to bull ride, huh?" Eugene Charley said to his students as he invited agreement.
"Yup!" the students exclaimed.
Charley then asked his students if they want to do a draft or a draw system for the 30th annual Eugene Charley Championship Bull Riding School finals rodeo the next day. The students agreed unanimously to use the draft system, putting them partially in control of their destiny.
With a PBR-style format, Joe Holgate explained that the draft allows a rider to pick a bull that they think fits their style.
Charley, a 1971 AIRCA champion bull rider who's the lead instructor at ECCBRS, said the reason for the finals rodeo on Sunday was to put his young students in a "real, competitive situation."
"The real thing so you know what you're doing," Charley told the students on Saturday afternoon. "But I'm going to miss all of you, (though) I'll see you down the road."
For the last three decades, Charley and other champion bull riders-turned-instructors have been teaching youngsters how to ride a one ton bucking bull, which is deceptively simple: stay on the animal for eight seconds.
But this is Charley's last ride. This was the ECCBRS finale.
Charley says his bull riding school started in 1973. He had gap years, but he says this is his 30th session.
"It's time for other champion bull riders on the Navajo Nation to do it," Charley said as he explained why he was hanging up his instructing hat. "It doesn't matter where the location is, just so we (riders) help the younger generation. That's important."
---