Leupp barrel racer powers to top 4 finish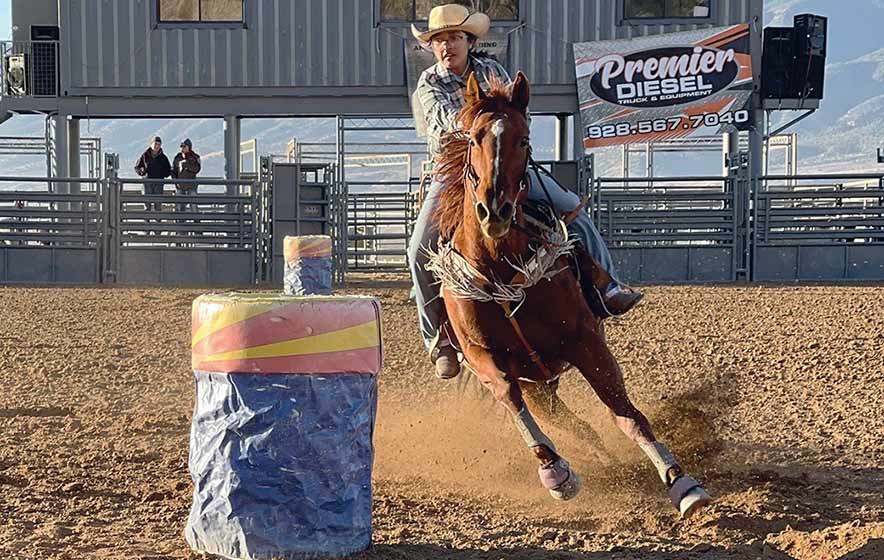 CAMP VERDE, Ariz.
In her debut barrel-racing season, Alexandra Benally-Begay is leaving her mark with the Arizona High School Rodeo Association.
Through 10 rodeos, Alexandra has powered her way to a top four finish in the season standings with 44 points, placing in seven of those rodeos.
"I really like the competition," said the 15-year-old cowgirl, who rodeos with her younger sisters Julia and Angelina with the latter competing in the Arizona Junior High School Rodeo Association.
The Benally-Begay siblings are from Leupp, Arizona, and their parents are Clarence Begay and Constance Benally.
With over 90-plus barrel racers in the high school division, Alexandra has her eyes set on earning a bid to nationals later this year.
She set that goal early last summer in response to the cancellation of the Indian pro rodeo season due to the COVID-19 pandemic.
And while she was somewhat devastated, Constance told her daughter to use this time to concentrate on what they have at their farmstead, which includes a bevy of developing colts.
"With this pandemic a lot people were upset because they couldn't rodeo," Constance said, "but I told (Alexandra) this was the time to start thinking about our horses."
All told, Constance said they currently have 16 horses with four of them colts.
"She started on one and she's really focused on her riding hours," the Benally-Begay matriarch said. "I really believe in riding hours, which is riding every day and getting on different horses."
By doing that, Constance says, it allows a rider to start thinking about how that horse is going to compete, while looking out for tendencies.
"That's when they start to know them and that's when they start that bond," she said.
As a staunch believer in starting your own horse, Constance said the process can be drawn out but at the same time it can be a rewarding one.
"Making a horse is much better than buying a horse that has already been seasoned," she said. "My husband and I really believe in raising our own horses because the girls get a chance to see that whole process from the time we start training them to where they are at right now."
Constance said it differs from a finished horse.
"It's not as meaningful or as sincere," she said. "I think the struggles and hardships they go through allows them to better connect with their horses."
In Alexandra's case, her horse – Oranges to Fame – started out running a little wide after each barrel but after fixing those mistakes the two competitors have been consistent.
"Naturally, Alex was a little upset, but she learned how to figure this horse out," she said. "She's brought that horse a long way and it's a credit to her work ethic. She's done real well with her training and she's finding the success she needs."
Before she rode for the current season last September in Payson, Alexandra wasn't sure what to expect in her first high school rodeo since many of the girls she competes with have some top-notch horses.
The Tuba City High junior had some so-so results with 11th- and 13th-place finishes.
Those middle-of-the-road results were somewhat troubling, so her mother challenged Alexandra to push her horse.
"That horse should be running faster so I was being real with Alex," Constance said. "She needed to start running that horse faster because I know that horse can handle it."
After posting an 18.281 run for 10th place, Alexandra added a 17.269 effort the next day for a fourth-place finish.
That success carried over to the next rodeos in Buckeye and Wilcox as the Leupp cowgirl took fourth and third, respectively.
"I didn't do as well as I would have liked in Payson but after my runs in Buckeye and Wilcox I started to set higher goals," Alexandra said. "I knew what my horse was capable of and the thing I like about her is her long legs. She has long strides, and she has very fast turns."
Admittedly, Alexandra drew inspiration when the Times published the first season standings after the Buckeye rodeo in late October.
"I cut that out and I put it on my wall," she said. "I told myself that I would be in the top 4 at the end of the season because I want to make nationals."
With those goals in mind, Alexandra says she is looking to stay consistent while helping out her two younger siblings as they have big aspirations too.
Julia, the second child, is still trying to find her footing in the high school division as her best finish came during the Wilcox rodeo when she placed 20th overall with a 17.772 effort.
"I'm doing OK but I'm not where I need to be at," the 14-year-old barrel racer said. "My goal is to make the top 10 so I can go to the (Arizona) high school finals."
Julia is currently working with Little Mama, a five-year old mare that her older sister used to ride.
According to Constance, Julia had a nice Roan horse before Little Mama, and it hurt her dearly when they sold that horse.
"I knew it hurt her, but I told her that horse provided all these things for you and you needed to respect that," she said. "I've always taught them that they can get on a new horse and make them work."
With her horse being sold, the Benally-Begay matriarch asked Julia to choose what horse she wanted to work with, and she picked Little Mama.
"The horse she's on is fast," Constance said. "She's still trying to make that transition because they've been on a rollercoaster ride."
Angelina, meanwhile, is looking to find her form again on her trusted horse Cheii, who is now recovered from elephant's feet, an ailment caused by equine lymphangitis.
According to the website Farmer's Weekly, there are three forms of equine lymphangitis and it's an inflammation of the lymph vessels, particularly in the hind legs.
"I like to use Cheii because he's really fast," Angelina said. "We've made a connection. He used to be my mom's horse. She thought that me and him would be a great match."
According to Constance, Cheii got ill during the Buckeye rodeo and as a replacement Angelina had to saddle up Dennis, a much older horse, for five rodeos.
"Angela was in the top 10 but her horse got elephant's feet," Constance said. "She had to ride her kiddie horse, so she struggled for a while but she's back on her other horse."
At the recent two-day Camp Verde rodeo two weeks ago, Angelina posted a pair of solid runs as she garnered five points on each day with a sixth place run of 17.700 and 17.715.
"I'm really happy that he's well because I can make more progress of getting up there in the standings," she said.
Currently, Angelina is holding down the No. 13 spot with 18 points.
As the baby of the family, Angelina said she hopes to follow in the footsteps of her older siblings, particularly Alexandra.
"She's a role model for me inside and outside of the arena," she said. "She's been doing this a long time and I want to accomplish some of the things she's done.
"I want to continue to ride and maybe train some more horses when I get older," she said. "I like to maybe breed some too."
---