Old-school events test cowboys, cowgirls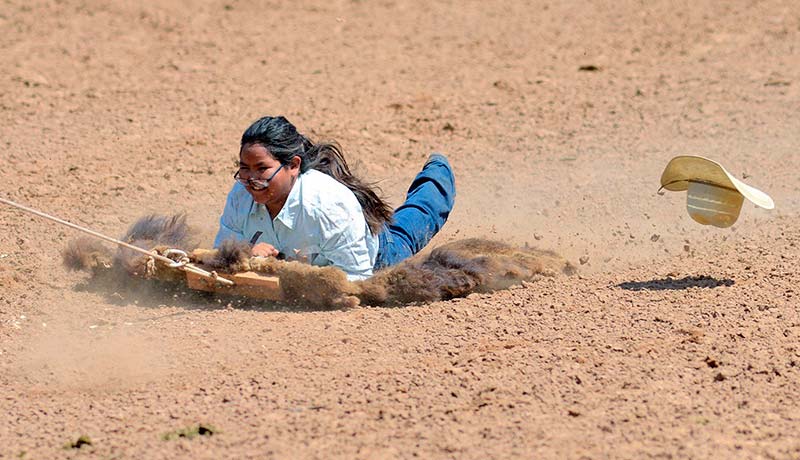 RED ROCK PARK
Cody Lansing had to pull himself up before crossing the finish line.
The Cortez, Colorado, cowboy lost his grip on the buffalo hide on Sunday afternoon during the Old School Rodeo at the 97th Annual Gallup Inter-Tribal Indian Ceremonial.
Lansing gathered himself just in time as he won the hide race with partner Aaron Tsinigine. In a rather close race, they won the event with a winning time of 11.09 seconds.
"Coming around the barrel I almost fell over," he said. "Before we crossed I had to pull myself back up."
The Tsinigine/Lansing combo edged three other teams as five tenths of second separated the four teams. Trevor Nowlin and Landon Munoz came in close second with a time of 11.31 followed by the team of Derrick Begay/Ty Romo (11.56) and JoDan Mirabal/Cody Mirabal (11.63).
This was Lansing second straight win in the hide race as he placed first with Dwight Sells last year.
"It's a fun event," the 16-year-old Cortez High junior said.
Although he does have a knack for the event, Lansing said there are some challenges. He said the grooves in the dirt present a problem so whenever he hits a lump it can throw him off.
"You can easily get bounced off," he said.
He also cited the power of the horse as a conundrum.
"If the horse is taking long lunges the rope can tug on the hide and pull you off," he said.
In addition to the hide race, Lansing also participated in the Pony Express race with his partner but they fell short.
"My rider was going too fast and he tried to pull me onto the horse and I ripped my shirt," he said.
Local cowboy Jon Arviso teamed up with his son JP Arviso to win the Pony Express race. They finished the race in 12.52 seconds ahead of Begay and Romo, who turned in a 13.11 run.
"I had a great time," Begay said. "I really didn't get to go to this rodeo for the last six, seven years. I was out doing pro rodeo but it's good to be back. It's one of my favorites rodeos."
In the wild cow milking, Wyatt Gibson edged his cousin to the chalk circle at the south end of the arena for the win.
"We won by a second or two," Gibson said.
---