PBR Buckin' on the Rez: Whitehorse electrifies crowd with 87-point score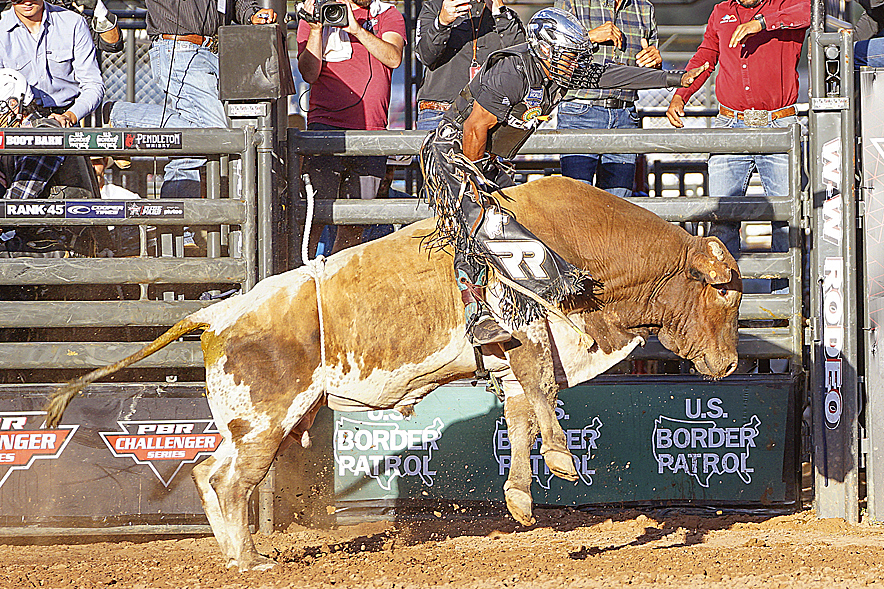 WINDOW ROCK – A trip aboard Barracuda didn't yield the results Keyshawn Whitehorse was looking for.
The Diné cowboy rode that Flying S/5S Ranch bull on the opening night of the 2023 PBR Buckin' on the Rez event on Saturday night inside a nearly empty Dean C. Jackson Memorial Arena.
With a renewed focus, Whitehorse successfully rode two bulls on Sunday night before a packed house as the Navajo Nation Fair office made the final PBR night a free event.
"This is a big deal for me, especially after the first night," Whitehorse said. "I had to redeem myself and show out with the big crowd we had. I had all the support system I could have, and I had to take advantage of that."
The Arizona Ridge Rider cowboy said he was thrilled to finally give the crowd something to cheer about after some so-so results in previous years as he placed second overall by covering two of three bulls for 171.50 points.
He finished behind event winner Wingson Henrique da Silva, who was a perfect 3-for-3 with an aggregate score of 217 points.
"The past few times I got skunked," Whitehorse said. "I felt like I could have done better, and I was just glad that I was able to do a good job tonight."
The McCracken, Utah cowboy said riding two bulls away from his hands made it more meaningful for him.
"It's a big confidence booster for sure," he said. "It gives you the confidence and just a peace of mind, knowing that I was able to cover the eight seconds with the bull going the other direction."
Whitehorse started the night with an 84.50-point effort on Chainsaw, a Benavides Bucking Bulls/Marin Roofing/Sandoval product.
"I've seen some stats on him; I've seen videos on him and Jose Vitor Leme rode him last year in Glendale to clinch the team MVP," Whitehorse said. "He didn't have too high of a score, so I know he wasn't like a difficult bull to get by, but I had to make sure I capitalized on him because I wouldn't have made the short round."
In the championship round, Whitehorse produced the event's highest score of 87 points on top of Taking Chances.
"I didn't know much about him, but I asked Josh (Frihauf) if it was his bull and he told me that Eli (Vastbinder) was 90 on him somewhere in a 15/15 event, so I was pretty excited getting on him," the 26-year-old bull rider said. "He told me he'll come out either to the right or left and sure enough he turned left."
Whitehorse believes he made "good timing" on the Frihauf bull as he got the excited Navajo fans going.
"I kind of had some hiccups here and there to where my foot came out, but that's just bull riding," he said. "You just got to ride each bull."
As for his fanfare, Whitehorse said it's good to have that kind of energy behind him after a good ride aboard Taking Changes.
"It's more for them than it is about me," he said. "I want to give them something to have joy about, give them something to cheer on and give the youth something to be proud of.
"You know they came out to watch me and the other Native bull riders out there," Whitehorse added. "They wanted all of us to do good and I'm just happy to put on a good show and give it everything that I got."
The event had eight other local bull riders entered with Evan Betony covering 1-of-3 bulls. The Tonalea, Arizona cowboy rode Triple X, a Benavides Bucking Bulls/Marin Roofing/Sandoval bull, for 83 points on the opening night.
Whitehorse is set to resume his schedule touring with the Arizona Ridge Riders in the PBR Teams series. The next stop will be held at the PBR Teams: Freedom Fest in Oklahoma City which starts on Friday night and ends on Sunday afternoon.
"The Ridge Riders have always treated me good," he said. "They're a great team, they have great coaches and great staff. It feels like family, and I don't want it to be any other way, especially with it being in Arizona."
Unlike the regular season, Whitehorse said the entire team will do anything for you to make the eight second ride.
"Those guys want you to do good," he said. "They're there for you and if your bull is not standing good, they're going to set that bull right for you.
"And if your rope is not sticky enough, they'll run back to the locker room to get some rosin," Whitehorse added. "They're going to do whatever it takes for you to get a qualified ride."
---