Spencer calls it a career after 49 years at Tohatchi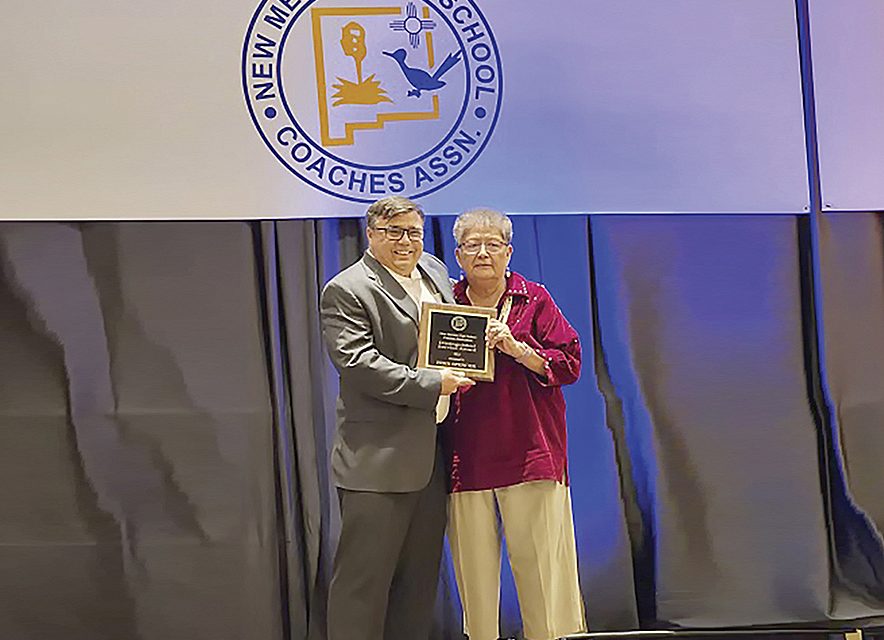 By Santiago Ramos Jr.
Special to the Times
TOHATCHI – Fern Spencer is finally retiring after 49 years of teaching and coaching at Tohatchi High School.
The 72-year-old Spencer has long been the face of Tohatchi High School and is highly regarded with a multitude of national and state awards through her extensive and equally distinguished coaching and teaching career.
Why she chose to retire after 49 years, Spencer said she doesn't really know.
"Why I chose 49 years to end my career as a teacher was not what I expected to happen, but it did," she said. "Now it's a new chapter in my life that I will partake and make the best of what is in store for me with the help of our Creator."
Spencer, who was born in Phoenix, Arizona but moved with her family to Tohatchi 66 years ago, said she will miss the students, the athletes, the teachers, the administrators and the parents immensely.
"I will miss my students of course and athletes plus people I worked with at school, the teachers, administrators, superintendents and the parents who were my students and the community who supported me throughout the 49 years at Tohatchi High," said Spencer who received her Bachelor of Arts degree at Western New Mexico. "Plus, my family who supported me in what I undertook in the classroom and in athletics."
When she was first hired as a teacher at Tohatchi High in August of 1974, Spencer recalls what the district asked of her.
"Way back when I first started teaching, Human Resources asked the teachers to at least give Gallup McKinley County two years, but I believed I exceeded that requirement," Spencer said with a chuckle.
Spencer, a 1968 Gallup High graduate, was recently honored with her latest award with the New Mexico High School Coaches Association Distinguished Service Award this past July.
Among her numerous honors, Spencer was inducted into the National Federation of Coaches Hall of Fame in 2019, the New Mexico High School Coaches Association Hall of Honor in 2016, and the New Mexico High School Coaches Association Hall of Fame in 2014.
She was also President of the New Mexico High School Coaches Association and the New Mexico Athletic Directors Association.
Spencer, who coached girls' basketball at Tohatchi High for 37 years, was honored for reaching the 400-win pinnacle in girls basketball in 2003 when she was named the New Mexico Girls Basketball Coach of the Year.
She was also named the National Athletic Director of the Year of Merit and the New Mexico Athletic Director of the Year in 2006.
She is currently the vice-president for both the All-Indian Rodeo Cowboys Association and the Native American Rodeo Historical Society a position she has held since 2014.
"I enjoyed what I taught because I gave my students to learn what I taught them in Business Education and PE then later on Vocational courses where they can enter the world of work with skills in the office environment or other areas of work," Spencer said. "Now I have former students who did work after high school then they now decided to return back to higher learning where they now have degrees and are still raising their families as they worked.
"That I take pride in that I did have a part in what I taught them in the courses I taught them to get their start in the world of work," she added.
Spencer said she is grateful for her students and athletes that she had worked with during her career.
"I want to take this opportunity to thank all of my students and athletes who were part of my career as well as my colleagues."
Spencer, who is a Libra, says she will follow the maroon-and-gold Cougars during her retirement.
"I plan to keep up with our Cougars in sports as well as their education," said Spencer who also loves to cook and read in her spare time. "I do plan to travel, keep up with my two rodeo associations as their Vice-President and be active in community affairs."
---