Ty Murray Invite: Tough pen of bulls get the best of Native riders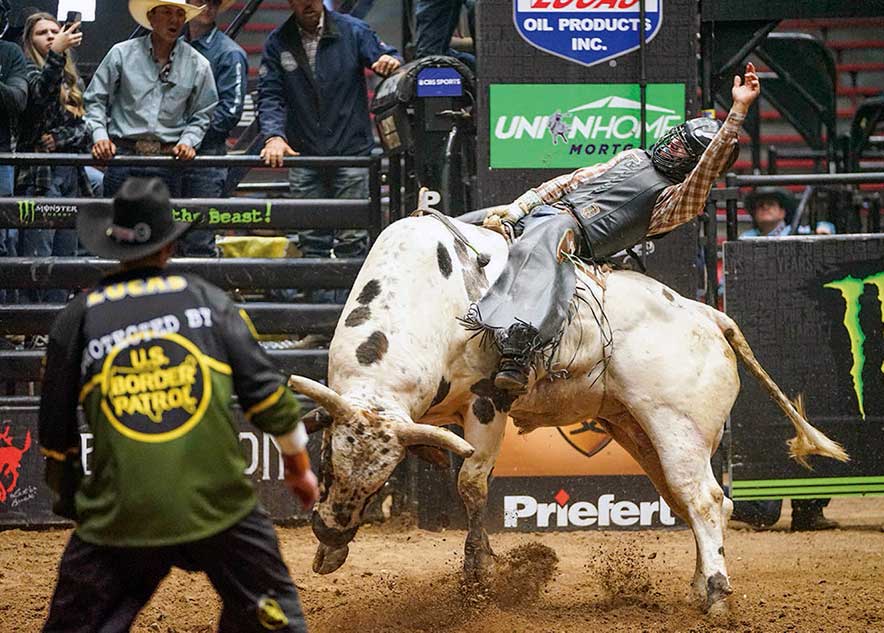 ALBUQUERQUE
The Native American contingent are still searching for their first gold buckle at the Ty Murray Invitational.
Three veterans and one newcomer took part in this year's event last week at the Pit in Albuquerque.
Diné cowboy Keyshawn Whitehorse came in as the highest ranked bull rider at No. 16 followed by Dakota Louis (No. 24) and Cody Jesus (No. 54).
The novice of the group was 2022 INFR world champ Robbie Taylor Jr., who earned a special invitational to compete against the best bull riders in the PBR.
The event in Albuquerque was the first ever Unleash The Beast event for the Chinle bull rider. Prior to that he rode 4-off-11 bulls in the Touring Pro Division and the Velocity Tour.
"This is where I want to be in the future," Taylor said. "I had a great time and it was a great experience. Making the PBR World Finals is a goal that I want to reach."
And although they showed grit and determination, the four Native riders were bucked off during the three-day event.
In Friday night's performance, Whitehorse was thrown off Kid Knapper in 2.34 seconds as the McCracken, Utah bull rider was looking to conquer that same bull in as many months.
At the PBR Monster Energy Invitational last November, Whitehorse rode Kid Knapper for a whopping 91 points.
The rematch at the Ty Murray Invite was skewed with Whitehorse getting smashed up as he was unable to return to action after getting stepped on.
On Saturday, Louis lasted 3.06 seconds on Wild Bill while Jesus was bucked off in 2.59 seconds aboard Mississippi Madness and Taylor rode Cold Creek for 2.03 seconds.
Jesus was hoping to use the same "Pit" magic he's used before to put him over the top. Last year, he finished in a two-way tie for seventh place by covering 3-of-4 bulls.
"Every time I step in here it feels like I can't lose or I can't get bucked off no matter what's hurting, no matter what's going on," the Sawmill, Arizona bull rider said prior to his ride Saturday night. "I mean, we're here to ride bulls and the fans are gonna back me up."
Going into the Ty Murray event, Jesus took a few weeks off to mend some minor injuries he sustain earlier this year. He was later scratched from competing on Sunday.
"I've been a little banged up here and there, but I can't think about it a whole lot," Jesus said. "They're gonna be there. They're gonna be nagging. My job is only eight seconds."
Jesus has had some history with Mississippi Madness, a bull that was previously owned by Owen Washburn.
"I think I could have won Window Rock last year if he didn't buck me off, if I did my job and stayed on him," he said. "I lost my feet and he just kind of pulled me down over his head and, you know, I slapped him and I broke my concentration."
Jesus was hoping to jump start his 2023 PBR season at the Ty Murray Invitational.
"Last year we were on the same spot, same kind of deal and it got turned around for me," he said.
Jesus has some work to make the 2023 PBR World Finals, which will be held in Fort Worth, Texas in mid-May.
Like Jesus, Louis has seen limited action in the PBR due to injuries.
"I've been hurt this year and I've only been to six events this year," the Montana bull rider said. "But the world finals is definitely in the plans.
"I plan on being there," he said.
And although he's a veteran in the sport, Louis said early in his career he split his time on the PRCA circuit, PBR and the INFR.
"I did that for a couple of years," he said. "I would switch it all up and now I've been on the tour consistently for the last four years.
"It's been a daily process of just trying to progress myself mentally, physically and just enjoying it as well," he said. "I feel like a guy can get too far ahead of himself and not enjoy the process and moment."
On Sunday, Louis drew Top Shelf and things didn't work out for the Blackfeet Nation cowboy as he was bucked off in 1.85 seconds.
"This was actually my first ever event in the PBR," Louis said of the Ty Murray Invitational. "It was a dream come true to ride at this level. At that point, I got to ride with some of my heroes and back then I was still in high school."
And though he hasn't had the success he would have liked at the Ty Murray Invite, Louis won last year's PBR Cooper Tires Invitational in his hometown state in Billings, Montana.
"That was remarkable, and it was a dream come true," Louis said. "It was one of the first events that I ever watched as a kid. Being in my home state and all the support was huge."
In his final ride in Albuquerque, Taylor lasted 3.22 seconds on Try Me Sunday afternoon.
"He was good," Taylor said. "He went left right after the chute. The first two corners I did pretty good and I cut him off. And then I ended up sitting on my butt again and I just went out the back."
In his first ride, the Diné College rodeo athlete said he overestimated his draw in Cold Creek.
"He had a lot of power, but he seemed laid back and he just took me off," he said.
With goals of making the PBR World Finals next year, Taylor said he's looking to take Jesus' offer of traveling with him next season.
"I've been equaling my time with the PRCA and the PBR," he said. "I've been going to more prorodeos and he wants me to go with him so that I can earn more points."
Jesus said he's hoping to see Taylor at more events within the PBR while adding that he has the talent to compete at this level.
"Robbie is just awesome," he said. "I've seen him ride for a long time and he rides really good.
"I hope he can stay focus and do his job because he's the next best thing," he added.
---