KC runner sets new course record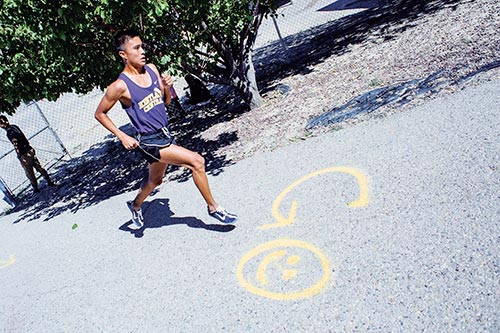 SHIPROCK
Just a week ago, Kirtland Central High runner Kashon Harrison edged Chinle's Santiago Hardy to win the Chinle Invite by a mere two seconds.
So when Harrison showed up at the Shiprock Chieftain Cross-Country Invitational over the weekend, he knew what to do to make sure that did not happen again.
"I had to come in with a different strategy," Harrison said. "I just had to take off in the first mile, I usually do but a little bit more this time."
The quick start gave Harrison the leverage he needed to widen his gap from Hardy. It also helped him set the new course record at Shiprock with a first place time of 15 minutes, 26.57 seconds. Hardy, who finished in second place with a 15:43.19 showing, also broke the course record. Hardy's teammate, Josiah Tsosie came in third in 16:33.89.
Harrison has had a perfect early season thus far. The win in Shiprock gave him his third straight win of the season.
He also finished in first at the race last year but he said this year was an entirely different race for him.
His time was better but he also matured and came up with a plan before the race.
"I felt like it was a lot better than last year," he said. "I knew it would be hard because…the road here is kind of washed out, so I had to come up with a different strategy: just taking off from the first mile."
Harrison led most of the race until about the final mile when Hardy got within an arm's reach as they began their descent on Blueberry Hill.
But Harrison kicked it into high gear again, something he said he should have done more of.
"On the straight away, I should have just strided out more," he said.
Harrison, a sophomore, said he prepares for every race as thoroughly as he possibly can. He watches running videos online and confides in his father, who was also a runner.
He said it is not so much about winning, but about performing well.
"It just gives me motivation of what time should I run and usually my dad motivates me," he said.
While Harrison entered the race with a plan to jump ahead, Hardy hoped to rely on his own motivation.
He said after losing to Harrison by just two seconds the weekend before, he showed up at Shiprock to win, but the anticipation affected him in a way he did not expect.
"I was feeling pretty good about winning today, but wow, he (Harrison) proved me wrong," Hardy said. "I was feeling pretty good, ready to race, but waiting for the race it was like 'I'm too lazy.' I wore myself out waiting for it."
---