Sand Devils notch 5th state title in a row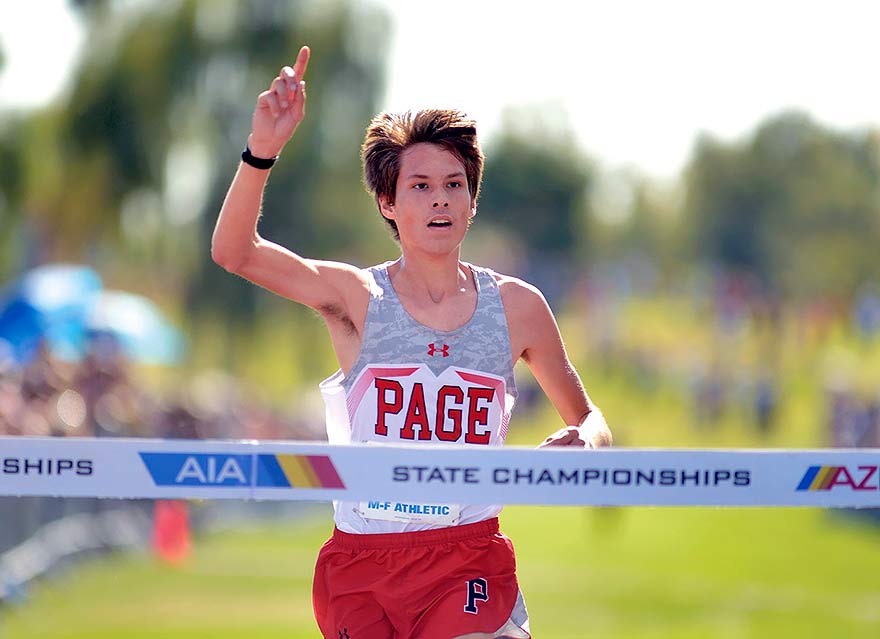 PHOENIX
As one of the state's premier cross-country programs, the Page Sand Devils outdid themselves at last week's Arizona state cross-country meet.
The Sand Devils hit a new benchmark by claiming its fifth consecutive state title.
"This is pretty awesome for our program because we've never won five in a row," first-year Page coach Tim Martin said. "We won four state titles twice previously so to get that fifth in a row is what these guys really wanted from day one."
In impressive fashion, the Sand Devils claimed the first three slots with Bowen Martin finishing ahead of teammates Morgan Fowler and Trent Holiday. The Sand Devils also got a 13th and a 18th place finish from junior Skylar Sandoval and freshman Lance Harris to complete the team score of 35 points. Prescott trailed a distant second with 114 points.
Last season, Martin placed third but on Saturday he led from start to finish. The Page senior crossed the finish line in 16 minutes, 2.07 seconds, as that mark was the fastest among the four divisions.
"It feels good to finally win a state title," Martin said. "I've been chasing one for a couple of years so this is a big relief."
Fowler finished 17 seconds behind Martin and he did that with a strained hip flexor muscle. The day before the race, Flower said he could barely walk but thanks to his physical therapist he was able to compete in the state meet.
"That was super scary but they really worked on my leg so that I could run this race," he said. "Coming here and getting second is super awesome. I am so happy for Bowen. I love that guy and he's my brother."
Fowler said continuing the streak of five state titles is unfathomable for most programs.
"Not too many people can every say that," he said. "What we did is very phenomenal and I am just very proud to be a part of it. Hard work does pay off. We couldn't have done it without each other."