'Making history': Red Mesa qualifies two sisters to state wrestling tournament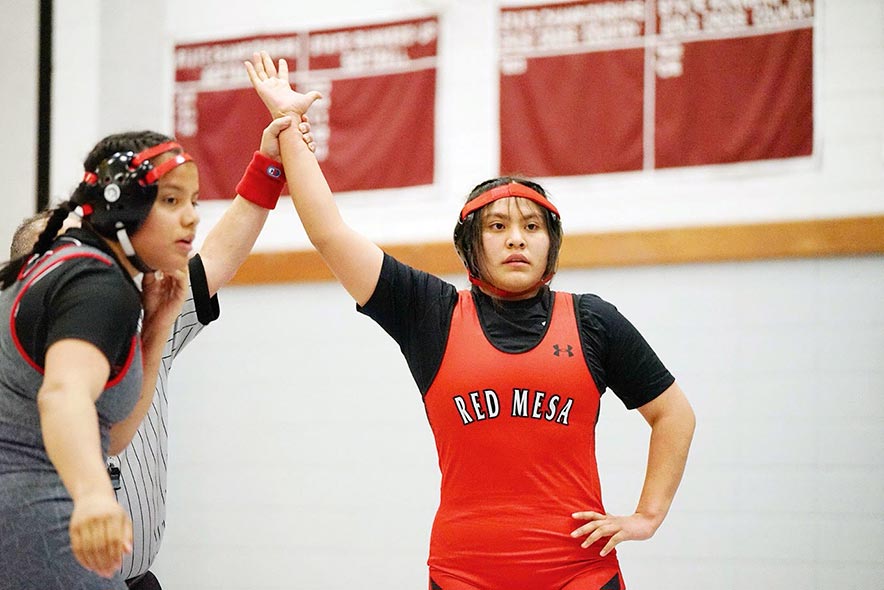 WINSLOW
Sisters Lyla and Rheanna Tree comes from a long line of wrestlers.
The two Red Mesa grapplers are third-generation wrestlers and they're looking to add to the family lore having qualified for the Arizona Interscholastic Association all-girls state wrestling meet.
"They're following their dad's footsteps," their mother Bobbie Bitahs said. "I'm more of a basketball player, but I got into wrestling since Rheanna started when she was about third-, fourth-grade."
As for older sister Lyla, she gained an interest in the sport two years after Rheanna, Bitahs said.
"They've been wrestling for quite a while," the matriarch said. "We started hitting tournaments like the Rocky Mountain Nationals, and they love it."
According to Bitahs, the two sisters are making history as they are the first female wrestlers at Red Mesa to qualify for state.
"It's the first time that Red Mesa will have a girls wrestler at state," said Bitahs, who also serves as the assistant coach at the school. "Whatever the outcome is, I'll still be proud of them. It's up to them on how far they want to take it."
At 185, Lyla is 30-4 overall entering the state meet, which is slated for Feb. 16 to 18 at the Arizona Veterans Memorial Coliseum in Phoenix.
The Red Mesa junior earned her qualification by winning the 185-pound weight class at Saturday's Section VIII meet at Winslow High School.
She defeated Monument Valley's Melaine Kescoli for the 185-pound title with Lyla earning a 7-2 decision over the MV junior.
"I'm actually excited," the older Tree said. "I want to be a state champ, and that's what I'm aiming for."
Her younger sister, Rheanna, was the reserve champion at 126.
In the finals, the younger Tree was pinned by Round Valley's Jaden Finch in the second quarter in the pair's first meeting.
"My season has been good, and I'm excited to be going to state," said Rheanna, whose record stands at 30-6 overall.
"I'm going to practice hard because I want to place at state," she said.
Bitahs said their dad won two state medals during his prep days, having placed fourth his junior year and sixth in senior season while wrestling at 145.
Going into the state meet, she said her daughters are looking to take home some hardware.
"They're trying to make history from themselves," she said.
In addition to her two older daughters, Bitahs has four other kids that have taken an interest in wrestling.
"My son wrestles for Dennehotso Boarding School and he got qualified for state at the junior high level," she said. "But he couldn't go because they were only taking sixth to eighth graders and my son is a fourth grader."
And although she's taken a liking to the sport, Bitahs said she's still learning.
"I know the basics, but all of their teaching comes from their dad," she said. "They learn a lot from him."
---