Page wrestlers end drought with two state champs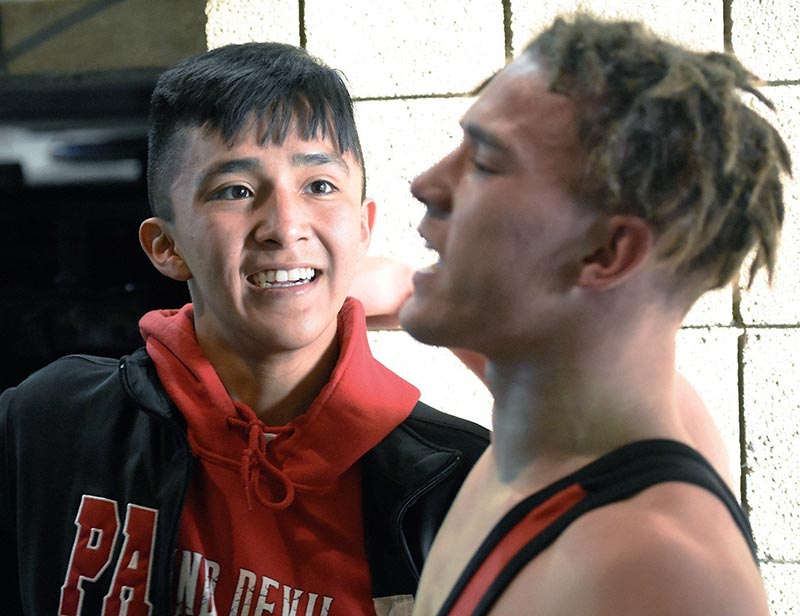 PRESCOTT VALLEY, Ariz.
Reality started to set in for the Page wrestling team.
After a nine-year drought, the Sand Devils crowned two state champions last Saturday night at the Prescott Valley Event Center at the Arizona Division III state wrestling tournament.
Page senior Kamron Whitewater, who earned the top seed, and junior Hayden Gracia captured gold in their respective weight classes.
At 106, Whitewater nearly capped a perfect season as he finished the year at 49-1 with his only loss coming to a Utah state champion in an earlier tournament when he wrestled at 120, which is two weight classes from his desired weight.
"This year was a dominant one," Whitewater said following his major 16-1 decision over Coconino's Pedro Billups. "I knew what I wanted and I knew what I was looking for."
Gracia, meanwhile, pinned Evan Killgore of Walden Grove in the finals of the 145-pound weight class as he improved his overall record to 11-4.
"I didn't even know this kid before stepping on the mat with him," Gracia said. "He gave it to me and he did some leg riding but I stuck him. I wrestled smart like my coaches said."
After winning his match, Gracia was beside himself as he paced the arena hallways in disbelief.
"This is blowing my mind right now," he said, while adding that the last person to take state was his older brother Sean in 2009.
"It feels magical to do it right after him," he said.
Sand Devil coach Kyran Keisling said it's been a long-time coming for Page to win a state title, let alone two in one year.
"It's a monkey off our backs," he said. "Gosh we had some kids in there. Every year we had either one or two kids in the finals but we just couldn't seal the deal. To the seal the deal and do it twice is a bonus."
---