A daughter's journey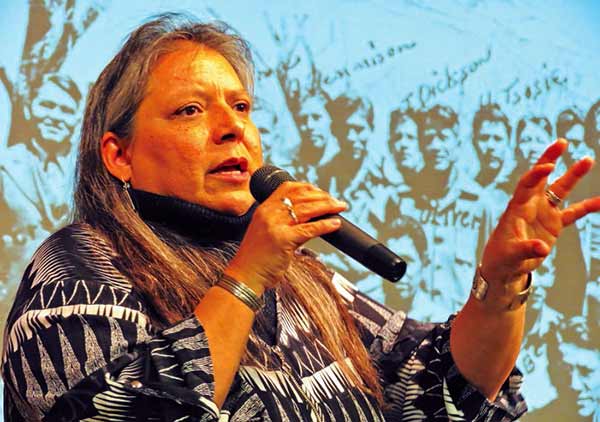 ABOVE: Standing in front of an archival photograph of some of the original Navajo Code Talkers, historian Zonnie Gorman presents findings from three decades of research. (Special to the Times, Colleen Keane)
---
Original code talker's daughter conducts research, keeps story alive
ALBUQUERQUE
For more than seven decades, George Clinton's family never knew what happened to him during or after World War II.
Then, last year his grandchildren found out that he was most likely the unknown 30th man to be recruited as a Navajo Code Talker by the U.S. Marines, reported by Navajo Times reporter Cindy Yurth in Dec. 2013.
Lavaye Holyan-Begay, Clinton's granddaughter, credited the discovery to historian Zonnie Gorman, Carl Gorman's youngest daughter.
Carl Gorman was one of the original Navajo Code Talkers who created the unbreakable code that helped to win the war.
This past Veterans' Day, Holyan-Begay and her family were among about 150 people, mostly tribal members, who listened attentively as Zonnie Gorman explained how she spent days examining national archives that led to her realization that Clinton was the missing recruit.