In memoriam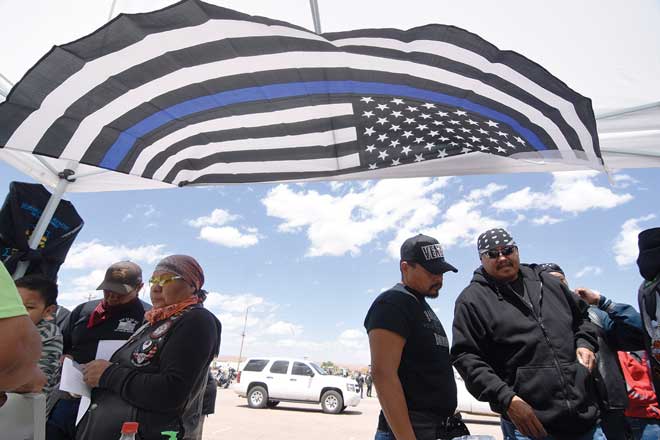 Bike run honors 14 fallen Navajo Nation Police officers
WINDOW ROCK
Fourteen Navajo Nation Police officers who died in the line of duty while walking the thin blue line were honored on Sunday during the 2nd annual Navajo Nation Fallen Heroes Bike Run.
The thin blue line is a concept that police are a line between good and evil, holding order, explained Navajo Nation Police Chief Phillip Francisco.
The run began from the Shiprock Chapter House with about 40 motorcycles and ended in Window Rock at Veterans Memorial Park with over 100.
The run helped raise money for a memorial wall, said Officer James Hale, whose grandfather, Hoskie Thompson, was a Navajo police officer.
According to Hale, his grandfather died of exposure while serving civil papers in the Sawmill, Arizona, area on Oct. 21, 1949. Based on his older sister's research, he said Thompson is the first known Navajo Nation Police officer to die in the line of duty.
The police department is encouraging the public to come forward if they have any loved ones who died in the line of duty.
The main mission of the bike run was to raise money and awareness for police officers and the dangerous work they do, Hale said. The often thinly stretched Navajo police force has to patrol an area that is 27,425 square miles, which is larger than most states on the eastern coast of the U.S.
Hale was involved in a shootout on March 19, 2015, in Red Valley, Arizona, that ended with fellow officer Alex Yazzie shot and killed. Hale also lost his right leg from the knee down. Another officer was also shot that night – Officer Herbert Frazier.
According Hale, Yazzie was the 12th officer to be killed in the line of duty.
Officer Houston J. Largo, the officer who stayed with Hale while he was transported for his leg injury, became the 14th officer to be killed. Largo was shot on March 12 of this year while responding to a domestic violence call.
"Hopefully, we don't add anymore," Hale said.
The bike run stopped where Officer Leander Frank was killed in an accident on Aug. 30, 2016, on Navajo Route 64 west of Tsaile, Arizona, at milepost 15. During the stop Frank's family spoke, thanking the motorcyclists for their remembrance.
"I just want to say to you all from the bottom of my heart, and on behalf of my grandkids, Lyander and Leandre Frank, and the two young ones," said Alice Frank Yellowhair, the mother of Officer Frank.
"I want to say thank you on behalf of my grandsons," Yellowhair said. "He was the only child I had. That's why it really breaks my heart. I think of my son every time I see someone in police uniform. I see them as my son, shi yazh."
Frank's son, Lyander, also spoke and said he and his young brother are staying strong. He also thanked the group.
The sister of Officer Largo, Tamarra Largo, said the bike run was the family's first public appearance since losing her little brother.
"There's a lot of emotions," she said. "It's just a reminder that we aren't the only ones this happened to.
"It hurts for the other families because we know exactly what they've gone through," she said. "The pain they feel is what we are still feeling because it doesn't go away."
"It is an honor to be Houston's sister," said an emotional Largo. "It's an honor for my family. We miss him dearly. We still wait for him to come home. We still feel like he will."
Hale said Sunday's bike run raised close to $3,000. He said they still have a ways to go, but he wasn't sure what the exact cost of the memorial would be. Next year's run is tentatively set for May of 2018.
The Navajo police officers who paid the ultimate sacrifice are:
Hoskie Thompson, Oct. 21, 1949.
Burton Begay, Nov. 17, 1975, Tuba City District.
Loren Whitehat, May 10, 1979, Tuba City District.
Andy Begay, Dec. 5, 1987, Kayenta District.
Roy Lee Stanley, Dec. 5, 1987, Kayenta District.
Hoskie Gene Jr., Jan. 6, 1996, Kayenta District.
Samuel Redhouse, Feb. 17, 1997, Crownpoint District.
Ester Todacheene, June 8, 1998, Kayenta District.
Winsonfred Filfred, April 2, 1999, Kayenta District.
Darrell C. Curley, June 26, 2011, Tuba City District.
Ernest Montoya, Nov. 30, 2014, Dilkon District.
Alex Yazzie, March 19, 2015, Shiprock District.
Leander Frank, Aug. 30, 2016, Chinle District.
Houston J. Largo, March 12, 2017, Crownpoint District.
---