Making it rain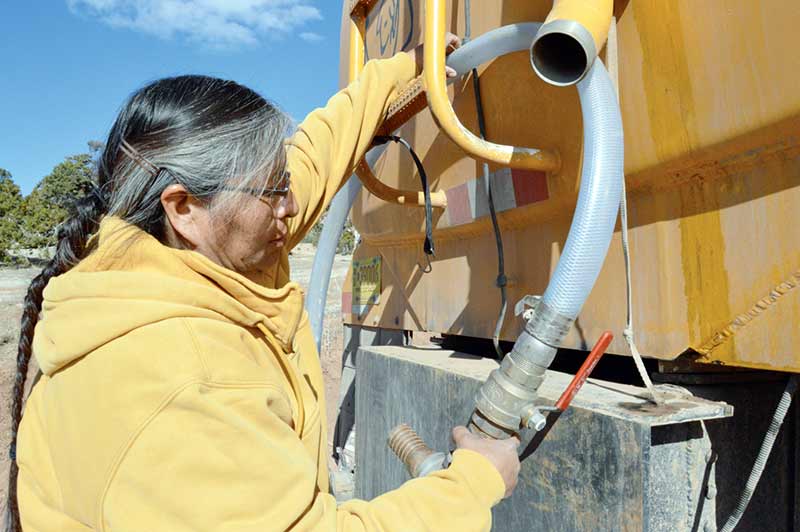 Local, international non-profits partner to bring clean water to Smith Lake
THOREAU, N.M.
It is commonly said, "Water is life," yet many Navajos still live without running water on the Nation.
It's not uncommon that Navajo families travel several miles to their local watering hole to haul barrels, jugs and tanks of clean water for their needs at home.
Which is why many of the locals in Thoreau, N.M. and surrounding communities see St. Bonaventure's "Water Lady" Darlene Arviso as a saint herself.
Arviso delivers water five days a week to about eight communities surrounding Thoreau, including Smith Lake, Mariano Lake, Baca, Prewitt, Haystack, Casamero Lake, Borrego Pass and Little Water. She's a staff member at St. Bonaventure Indian Mission and School.
"I know everybody around and they know me," Arviso said, which proved true as she sat behind the wheel of her bright orange water truck waving to passing cars.
Arviso has been employed with St. Bonaventure for eight years. Her day starts out with her morning bus run for the elementary school, but soon after she starts her shift as the water lady.
Armed with her cellphone and massive truck, Arviso heads out into the community to deliver water to families in need.
"I go to different areas every day. I do 10 to 14 houses a day," Arviso said of her route, adding that if some of the elders are home alone she'll help them fill their buckets and take them inside.
Of the 3,500 gallons of water Arviso lugs around the community she said she gives out about 3,000 most days. She visits the families at least once a month to fill their water jugs.
"This is the only (free) water point the community has," Arviso said, adding that bringing the families water is only part of what she does.
She'll often spend time with the people and visit or tell jokes. In some cases if the family is facing hardship she'll lead a prayer for them.
"I enjoy my job. I like my job and I like what I'm doing because I'm helping my people," Arviso added, saying that the reaction she gets from the community is great.
Arviso said community members are "happy when they see the water truck," and most of the time "they'll be running around to clean their barrels, or for their five-gallon buckets."
She said she even has a client who comes in with at least 50 one-gallon jugs and dozens of empty liter soda containers.
---