Begay announces bid for Congress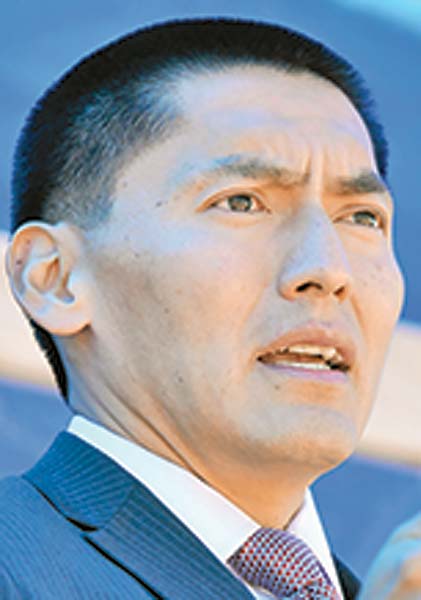 CHINLE
Arizona State Sen. Carlyle Begay says he wants to continue to be a voice for tribal and rural communities … but at a higher level.
Begay on Monday threw his hat into the already crowded ring for the Republican nomination for Arizona's Congressional District 1, announcing his candidacy in a press release.
"I don't see this as my next step," Begay said in an exclusive interview with the Navajo Times. "Title or position never mattered to me.
"I'm looking at issues I've been working on at the state level that I think can be taken to a national level."
Begay said he will run on a three-pronged platform that continues the issues he has worked on in the Arizona State Legislature: job creation and education (which he believes go hand-in-hand), being a voice for the nation's "overlooked and forgotten" communities, and local control of services and resources.
Begay cited the "tremendous need" for jobs and opportunity on the nation's Indian reservations and in its rural areas, including the need to eliminate the "arduous bureaucracy" that discourages so many Navajo entrepreneurs to the point that they start their businesses off the reservation.
At the same time, he said, the reservations sport "some of the worst schools in the country," turning out graduates ill-equipped to staff any companies that do manage to get off the ground.
"How do we compete for the jobs of today, the jobs of tomorrow?" he asked.
One way is to get job providers into education, as he has done with his Code Talkers to Code Writers Initiative, Begay said.
That initiative involves a partnership between participating schools and two high-tech companies — Intel and Cisco Systems — to train computer code writers.
"We will train 1,000 code writers over the next five years," Begay said, noting that a code writer with just a two-year certificate can earn upwards of $100,000 a year.
The candidate believes most Americans are not aware of what he calls the "crisis in Indian education," which is why he is making a documentary on it.
In fact, he said, most Americans are entirely unaware of any of the problems on the nation's reservations — a fact that became clear to him in the legislature.
"When we talk about our issues," he said, "many people even in Arizona don't understand things like a school bus getting stuck in the mud."
In the nation as a whole, the level of awareness is even more lacking, Begay noted.
"There are only 36 states that have federally recognized Indian tribes," he said. "In the entire history of Congress, there are only 14 Native Americans that have served.
"And yet we have a unique perspective. We represent a significant portion of our country."
Which brings Begay to the second plank of his platform: Being a voice for tribal communities.
"Whoever becomes the (Republican) nominee (for President)," Begay said, "My first task will be to ask him to come to the Navajo Nation."
He noted he has already done this on the state level, getting Gov. Doug Ducey out to the reservation not once but twice.
"It's one thing to hear about the conditions on the reservation," he said. "It's another to see, touch and feel it."
The third plank, self-determination, "is the heart of what sovereignty is," Begay asserted.
He believes Native nations need to go from a "sha'" ("give it to me") mentality to "t'áá nihi" ("on our own").
When confronted by the fact that many Navajos don't like the idea of, for example, contracting their federal schools and health care to the tribe, Begay said he understands their reticence.
"There will be growing pains," he said, "but ultimately, it vastly expands our opportunities."
The field of six Republicans who have already filed includes some heavy-hitters like the speaker of the Arizona House, the former Arizona secretary of state and the sheriff of Pinal County, and even another Navajo, Shawn Redd. Can Begay, who just became a Republican late last year, hope to compete?
Of the entire pack, he said, "I'm the only elected official who has represented District One."
Legislative District 7, he explained, overlaps Congressional District 1 by 40 percent.
And if anyone has any questions about how he has represented those folks, Begay said, all they need to do is study his record.
"There are currently 17 bills actively going through the system that impact the Navajo Nation directly," Begay said. "When was the last time that has happened?"
---