Guns to Gardens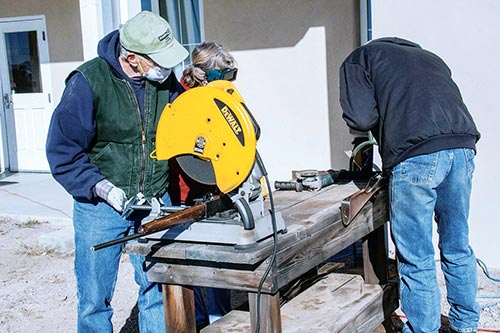 Gun safety drives efforts of NM group
By Jason Morgan Edwards
Special to the Times
ALBUQUERQUE
The right to bear arms is protected by the Second Amendment in the Constitution. It is also one of the most hotly debated issues in electoral politics.
There are strong proponents on both sides of the debate. But, that is not the central issue for the New Mexicans to Prevent Gun Violence. Directly stated, NMPGV "focuses on the safety of children, families, and communities by working to prevent gun violence."
The gun buyback program gives people an opportunity to legally dispose of unwanted weapons. According to Miranda Viscoli, NMPGV Co-Chair, "We're not anti-gun. We're not trying to take guns from law-abiding citizens. We're specifically about gun violence prevention."
The most recent event, Guns To Gardens, was hosted at the Rio Arriba County Sheriff's Office in Española earlier this month. Sherriff James Lujan was enthusiastically supportive of the gun buyback, as are most law enforcement agencies who have partnered with NMPGV. He noted the holiday season usually brings with it an uptick in gun violence. But, not in the way that might first come to mind.
"During the holidays, we have a lot of people that are severely depressed – that are suicidal. There's a strong possibility that one of those people may harm themselves, or someone else," said Lujan.
And then there is always the potential for burglaries where stolen guns are used to commit other crimes. Lujan re-emphasizes that the buyback program is in no way anti-gun. Rather, it is more of a public safety service.
---