Lending an ear(ring)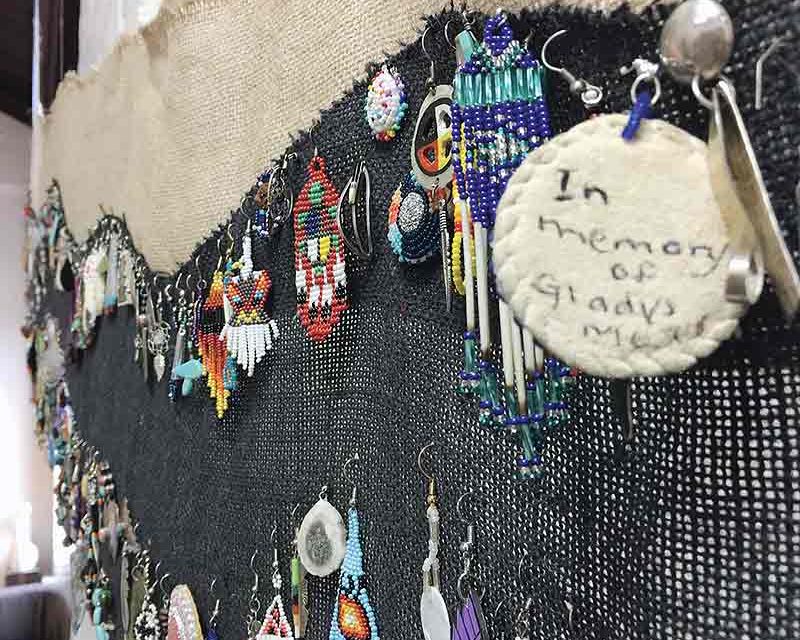 Exhibit makes violence against women personal
By JayDiamond Taliman
Special to the Times
DURANGO, Colo.
The Durango Art Center is hosting the Sing Our Rivers Red earring exhibit until Sept. 30, displaying earrings representing murdered and missing indigenous women from throughout the US and Canada.
The earring exhibit has been traveling the country for two years to places like Montana, North Dakota, and New Mexico.
Melody Baker of Sexual Assault Services in Durango collaborated with Tanaya Winder, the curator and founder of the earring exhibit, to bring the display to the Four Corners area.
"The purpose of the exhibit is to raise awareness to the epidemic, but it is also to provide a space for people to come together; a place for healing," said Winder. The exhibit displays one earring representing each individual, and the multitude of styles show how diverse the movement is.
An earring from Nicole Redhorse, a Dartmouth graduate who was murdered in a Durango motel in 2007, is one of the several thousand on display.
Personal letters accompany the display and reveal the emotion behind many people's stories. "When people mailed in the earrings, a lot of people mailed in letters to go along with them, usually from damaged families or survivors," said Winder.
Sing Our Rivers Red has received 3,406 donated earrings from over 400 people from six Canadian provinces and 45 U.S. states.
Information at the exhibit reads, "According to the U.S. Department of Justice, nearly half of all Native American women have been raped, beaten, or stalked by an intimate partner; one in three will be raped their lifetime; and on some reservations, women are murdered at a rate 10 times higher than the national average."
Kelsey Lansing, a Navajo graduate in psychology and Indigenous studies at Fort Lewis College, said "This (violence against Native American women) is a taboo that most don't talk about and tends to be swept under the rug. There are many different tribes that are affected and a lot of women that respond are from the Navajo area."
"We need to become aware, because it's not only women, it's young girls and teenagers also," Lansing continued.
Sing Our Rivers Red encourages any Native female who is a survivor of abuse to share her story and to know she is not alone.
There will be a special event tomorrow, Sept. 23, at 6:30 p.m., with music performed by two individual singers in the concert hall and a prayer for the victims.
"Nobody owns the exhibit; it belongs to the people and whoever needs it, so whenever it travels to different places, people can choose what kind of programming and activities they want to go along with it," Winder explained, adding, "Water is life and so are women."
Anyone interested can visit the exhibit at 802 E. 2nd Ave., Durango. Schools, tribes, or community organizations may request a display of the exhibit at Singourriversred.staging.com.
---