Nonprofits help distribute food boxes to Navajo vets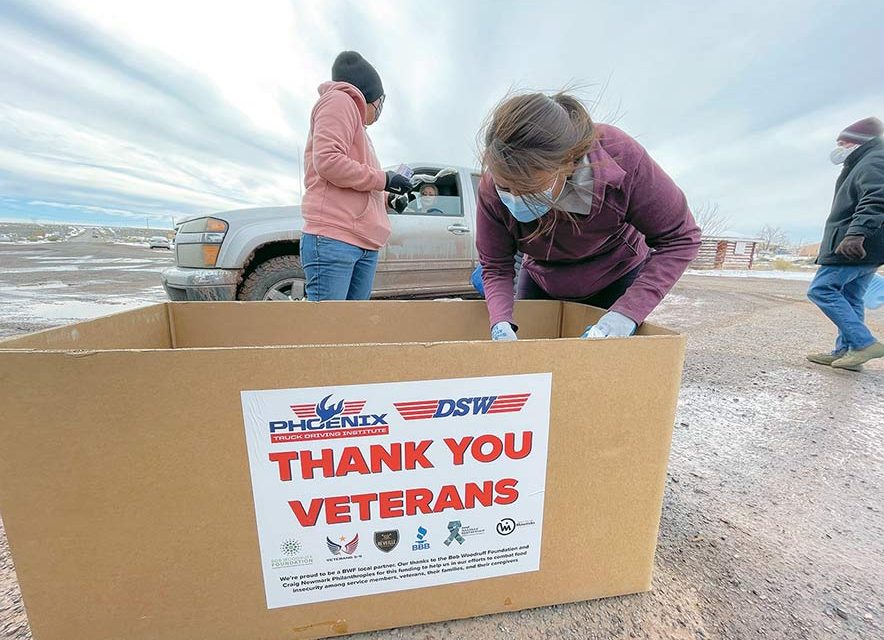 KINLICHEE, Ariz.
At least 90 Navajo veterans got the sheepherder's special during a food distribution on Friday in Cornfields, Ganado and Kinlichee.
The sheepherder's special, donated by veterans organizations, was comprised of two cans of Spam, two bags of Bluebird flour, lard, baking powder, coffee, potatoes and three gallons of water per family.
These were distributed to veterans and their families. Hugh Grant, deputy executive director of the Navajo Nation Veterans Administration, said more than 12,470 Navajo veterans were affected by the pandemic and they have been struggling to keep food on the table for their families.
With the help of Steve Yamamori, president and CEO of the Reveille Foundation out of Goodyear, Arizona, the Bob Woodruff Foundation, Veterans 5-9, the Better Business Bureau, Diné Naazbaa' Partnership, and West Valley Mavericks, they put together 100 boxes of food. "With this pandemic, it magnifies exactly that a lot of our people really need help," Grant said, as he worked filling bags with food.
Grant added the Navajo Nation VA office would be helping with another essential item. "Within the next couple of weeks, we are looking to get some wood," Grant said. "That is really needed right now. With the lockdown, it has been hard for the veterans to go out and get wood and other essential items."
The Reveille Foundation's Yamamori said a total of $15,000 in donations was used to get food for Navajo veterans. "I know the lockdown has continued, but we just know people are greatly affected and our veterans are suffering so we want to come out and do this," Yamamori said. "We help all under-served populations, but we have a focus on Native Americans and veterans."
Grant said during the food distribution, Navajo families who were not veterans drove up asking if they could get some. Without hesitation, they gave them food, he said. Inann Johns, with Diné Naazbaa' Partnership, said they have found that predominantly older veterans, usually grandparents, were the caretakers.
"When we are reaching out to veterans here on the Navajo Nation, the grandparents are actually taking care of their grandchildren," Johns said. Johns said on average, there may be four to five family members in a household. "Let's go bigger next time," she added.
Yamamori said his organization was looking into how they could increase distribution but it was a matter of acquiring funding, which would dictate how often they would be able to come to the reservation, even after the pandemic ends.
"If we can, we can try to get out here every quarter," he said. "If we can, or just when we can get up here and do it." For soldiers like Marine Corps veteran Jerry James from Woodsprings, who served his country from 1971 to 1977, he said he was grateful for whatever help veterans could get. "We appreciate what you have given us," James told the volunteers.
---