Tónaneesdizí celebrates a "magical night"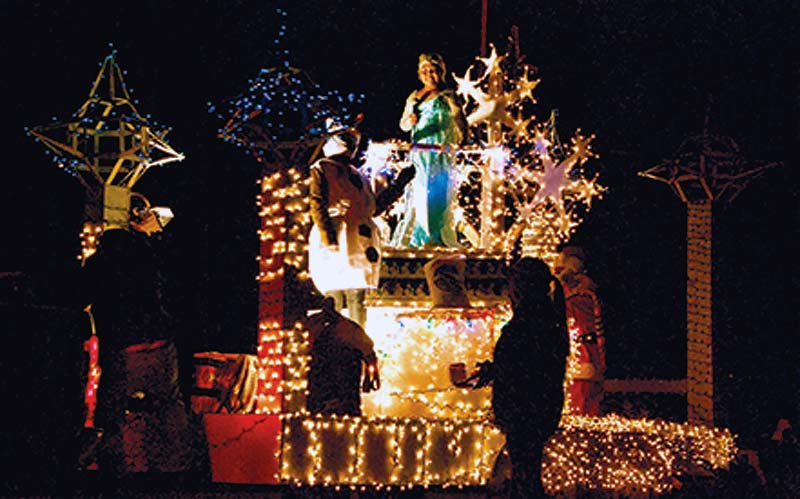 TUBA CITY
Undaunted by a chilly evening, families bundled up and lined Main Street for "a magical night in Tónaneesdizí."
More than a mile of twinkling lights intrigued the senses and perhaps fired up imaginations as the street was aglow Friday night (Dec. 18) with the Yuletide spirit during the 4th annual Christmas Light Parade, for which the theme was "a magical night in Tónaneesdizí."
The magical night featured a variety of floats, including a Disney "Frozen" float that highlighted Anna, Elsa, and Olaf, the characters from the epic comedy.
But the highlight for parade-goers was almost certainly the sleigh float with Santa and Mrs. Claus.
Despite Jack Frost's nipping that night, Coconino County District 5 Supervisor Lena Fowler danced to the nearby playing of Christmas music while she served hot drinks and pastries that the county and the Tuba City Police District sponsored.
Mike Sixkiller, the community event coordinator at Tónaneesdizí Chapter, said festivities throughout the day included an early-morning Christmas run sponsored by Tuba City Regional Health Care Corp.'s health promotion and diabetes prevention programs; a community bazaar; and a family scavenger hunt by Wells Fargo.
Sixkiller this year invited country-rock band Stateline from White Cone, Ariz.
"Tuba City knows how to get down," Sixkiller wrote in a Facebook post. "The chapter was definitely packed. The place was filled with people having a blast."
In an interview, Sixkiller said the money raised this month from the bazaars will go toward the 48th annual Western Navajo Fair.
---